The price of any product varies in different places. If you buy products from different companies, you can easily find the same type of product at different prices. Different companies mark their products at different prices for a number of reasons. The same goes for medal prices in China.
If you've been looking for the best medals, you've found them in China. If you decide to buy medals for any event or for any other purpose, or if you are looking forward to buying medals soon and want to know more about medal prices, read on.
As a professional medal manufacturer in China, SICpin writes this medal price guide in this article. You'll learn about the factors that affect metal prices, you'll learn how much medals cost and why they are so expensive. Even if you don't have any previous experience buying medals, you'll know how to get the best prices on medals. Without further ado, let's get started:
1. Best Price for Medals Based on Manufacturer
Since the Chinese are good at making different things, you'll get awesome medals all over China. Because there are some great medal makers all over China. The excellent manufacturer medals of Guangdong, Zhejiang, and Fujian provinces are quite famous in China. But it doesn't end there, because there are other places in China where you can also get excellent medals according to your choice and preferences.
1) Manufacturing Technology
However, different medal manufacturers have different medal prices. Medal prices are different in different places because different companies have different ethics and circumstances. Some companies base their medal prices on what they think customers are willing to pay.
Medal manufacturing technology is getting more and more advanced. This is why there are different medal prices. Some medal manufacturing companies are trying to master the latest technology as quickly as possible. Other medal makers were much later with the latest machines than their competitors.
2) Quality
Different medal prices also have different qualities. Therefore, different companies charge different prices for medals.
3)Production Capacity
Most of the time, medal manufacturers with large factories and lots of employees can offer more affordable medal prices than smaller companies.  Price discrimination of medals exists in China and anywhere in the world, as some companies step forward to grab consumer surplus in the market. Some medal makers generate more revenue than other medal makers with different medal prices.
The different prices of the medals provide higher sales yields by properly utilizing their idle capacity. As a result, medal manufacturers can more efficiently produce more and sell as many medals as possible. While some people think the different prices for medals are unfair, this is why economists say that price discrimination is in many cases a greater welfare benefit.
(Another related post: A Guide to Startup Company of Custom Award Medals)
2. Best Prices for Medals Based on Location
Most of the time, the price of the medal depends on the location. The price and quality of different products have always depended on the origin of the product.
1)Environmental Feature
Different places have different types of environments. In some particular places, large numbers of people work in particular products or provide particular services. Sometimes it's their tradition, they've been doing it for a long time like their ancestors did.
In some other cases, they do it because it's the best way to make money in that particular place. In other cases, the origin of that particular product is from that particular location. Therefore, different places offer different medal prices and different quality medals.
2) Lifestyle Cost
Different places also have different lifestyle costs. In some places, the cost of the lifestyle is high, which is why a certain product is more expensive compared to some other places where the cost of the lifestyle is relatively cheap. In some specific places in China, there are a large number of people willing to work for a low price. In those places, medal makers can mass-produce medals at a low cost, and the medal prices there are quite affordable compared with other places where labor costs are high.
3) Economic Environment
Location matters if you want to get the best prices on your medals, and one of the best places to buy medals of the best quality at the most affordable prices is the city of Zhongshan. The city is located in Guangdong Province. The city doesn't attract many tourists because it's a city known for its business. Most foreigners come here for business purposes. So, you can imagine the economic environment of the city. The city is home to medals that everyone seeks for their events and other purposes.
4) History of Making Medal
That's why medal prices here are the best anywhere else in China. Since this is the birthplace of medals, people here have a long history of making medals, which is why the city has established a good environment for making medals. Many people work in this medal manufacturing. The use of the latest technology in medal manufacturing is demonstrated here. So the overall medal making process here is flawless.
With the latest technology and relying on the tireless workers of this medal industry, the city's medal manufacturers can churn out medals of superior quality. In this way, the overall process and environmental costs are greatly reduced. That's why medals here are more affordable compared to other places in China. The city's medal makers can churn out medals of high quality.
(Another related post: An Ultimate Buying Guide to 5K Medals)
3. The Price of the Medal According to Your Source
If you want to get the best medal prices, there are several factors you need to be aware of. Now that you know that the price of medals is different in different companies and places, there is one more thing you must know about the price of medals. This is where you buy your medals from.
1) Direct/Indirect Sell
You need to check whether the source of your medal purchase is direct or indirect. If you buy your medals from an indirect source, then you will pay more money. On the other hand, buying medals from a direct source can save you a lot of money. As we want you to get the best price on your medals, we always recommend buying your medals direct from the manufacturer and not from a trader.
There are many merchants in the market these days who will try to convince you that they are the best source for you to find the highest quality medals at the most affordable medal prices. But in reality, the opposite is true. Traders usually accept orders from customers and then forward the orders to factories for production. After the medal makers have finished production, traders collect the medals from them and send them back to customers.
In this process, traders order medals from manufacturers at cost-effective prices, but they sell them to customers at high prices. Traders also don't care about the quality of the medals. Traders are not committed to providing the best quality at the best price for medals because they are not manufacturers.
(Another related post: How to Find the Best Running Medals?)
2) Emphasis on Reputation
Manufacturers invest a lot in their business, which is why they like to stay in business for a long time. In order to keep their business running, they need to have a solid reputation. The better the reputation, the better the business. Hence, medal manufacturers always make sure that their customers get the best quality medals at the best prices. On the other hand, traders start their business without keeping in mind that they will be in it for a long time.
Most traders' businesses are short-term. Their main goal is to make money and not care about anything. That's why some merchants accept medals for a premium price, but don't offer the exact quality that that price deserves. These are the reasons medal prices vary depending on the source you buy from.
3) Benefit of Direct Sell
We are one of the most famous medal manufacturers in China. If you want to get the best medal prices then you can contact us directly and order the medals of your choice from us. Since we want you to get the best price on your medals, we recommend that you order your medals directly from us.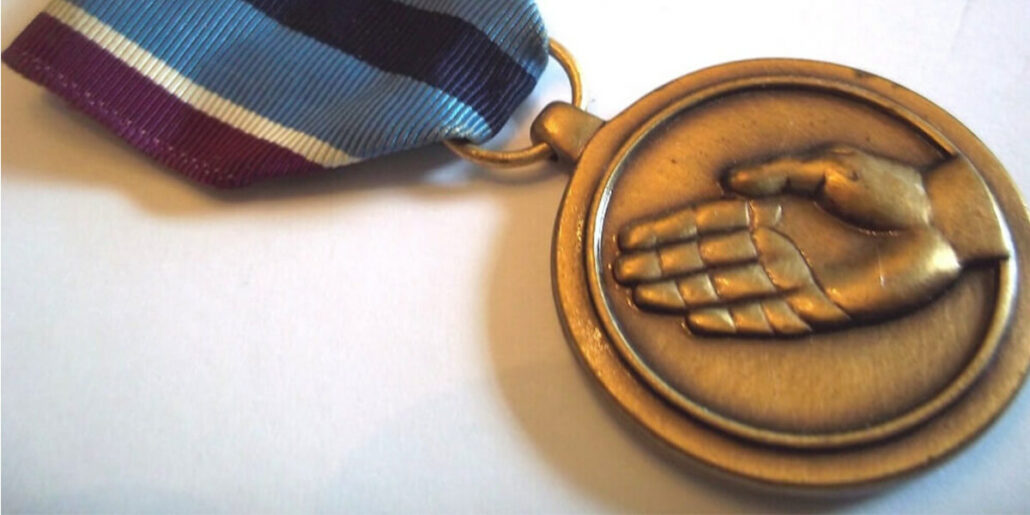 (Another related post: How to Select Medals for Schools?)
4. Medal Price for Custom Order
Today, most organizations and companies that require medals for events and other purposes order custom medals. Custom medals offer more benefits than stock medals. Therefore, custom medals are the first choice of many people. 
Prices for medals available in stock are given on the website only. But without knowing the customer's requirements for the medal, it is impossible to tell the price of the medal for the custom order right away. 
1) What Information Does Custom Medal Pricing Require?
The price of each medal is mentioned on the website according to the material, effort, and technique used. But custom medals require more modifications and always extra effort. Therefore, the medal price for a custom order will be mentioned after the client sends the design and all requirements to the medal manufacturer. 
2) How to Classify the Custom Medal?
Each medal on the website is categorized according to the characteristics of the medal. They are categorized according to the events that will be used. But custom medals are not classified as such, because custom medals do not fall into any particular category. 
Each custom medal is carefully crafted according to the deep imagination of the client. As a result, each custom medal has a completely different price tag. If you want to get the best medal price for your custom order, then we are your best choice. 
To find out the exact price of a medal for your custom order, you must first send us your desired medal design. Then you have to mention the size, color, thickness and material of the medal you want. We'll calculate the cost and effort to customize the medal of your dreams, and then you'll know how much the medal will cost.
(Another related post: What are the Buying Tips for Medals?)
5. Medal Prices Based on Characteristics
The price of the medal depends on many aspects, such as; medal size, medal thickness, medal craft: soft enamel color, transparent color, glitter pink, luminous color, etc.
1) Ribbon
The different ribbons of the medal also make the price of the medal different. Ribbon with flat woven ribbon, printing ribbon, and sublimation ribbon. If the medal is large, the price of the medal will be higher. The price will also depend on the thickness. The larger the size and thickness, the more material is required to make the medal. And the more materials, the higher the cost. Therefore, if you want a large size and thicker medal, the price of the medal will be higher.
2) Material
The price also depends on the material, as different materials cost differently due to their characteristics. Some materials are more durable than others. As a result, they provide a longer life to the medals. Some materials are prone to corrosion. In contrast, some materials are corrosion-resistant. You will pay more for your medals if you choose corrosion-resistant and highly durable materials instead of materials that corrode easily. The overall price of the medal depends on the quality of the material.
3) Enamel Type
If you choose hard enamel, the price of the medal will be a little higher than that of soft enamel. Soft enamel is suitable for producing large quantities of medals at a cost-effective price. The soft texture of soft enamel is loved by everyone. Hard enamel, on the other hand, was more costly because it gave the medal a jewel-like quality. If you choose hard enamel, the surface of the medal will also be very smooth. This is how medal prices change.
4) Engraving Procedure
Different types of engraving techniques also determine the price of medals. If you want high-quality colors, medals will cost more than cheaper ones. If you want to buy a medal with a ribbon with a printing system then it will cost more than a ribbon without any printing system. These are all factors that determine the price of Chinese medals.
(Another related post: How to Buy Bespoke Medals?)
6. The Price and Delivery Time of Our Medals
Now that you know that the price of medals depends on the manufacturer, location, and source, you should know that we are your best choice. We are the manufacturer who always makes sure medal prices are affordable for everyone. Since we are the manufacturer, we are a direct source for medal purchases.
You can contact us directly and buy medals from us at the best medal prices without the help of any middleman. We also offer the option to customize medals. You can order custom medals from us according to any of your requirements and we will take care of it.