A challenge coin means to instill unit pride, improve the team spirit and reward hard work and excellence for the organization. The modern new challenge coins feature popular culture attributes or organizational values.
SICpin offers two basic processes by which to manufacture: zinc-alloy die castings or brass stamping. Our professional design team and customer service will be dedicated to providing production assistance for your challenge-coin project. Production details such as material, size, Pantone color, metal plating, packaging, etc., will be approved by you before going into production.
With an area of 2,300 square meters, 42 workers, and 26 manufacturing machines, the peak monthly shipments of challenge coin coins are as high as 60,000 pcs.
We can provide customized service according to customers' drawings or ideas.
Sicpin Challenge Coin Features
SICpin Challenge Coin Specification
Artwork
Design assistant: We can provide free design assistance based on your drafts or ideas.
Production experience: We provide different options for your design according to our practical production experience
Property copyright: Any idea is priceless, and you will own the copyright to the art.
Respect original: We respect originality and are committed to crack down on theft.
Material
Metal plating
Surface treatment
Accessories
Steps to Customize the Challenge Coin
Challenge Coin Manufacturer FAQ
From concept to shipping, SICpin provides high quality and fast shipping to ensure timely delivery.
Are You Looking for Challenge Coin Manufacturer?
Contact us for design assistance, free quote, and professional advice today.
We will provide you with a free quote within 24 hours, and we respect your privacy.
Challenge coin means to instill unit pride, improve esprit de corps and reward hard work and excellence for the organization. Secondly, the challenge coin is more of a spiritual inheritance of history and belief. Here we write a faq guide for challenge coin.
1. What is Challenge Coin?
The Challenge Coin is a specially designed coin. It is offered to someone to confirm membership in an organization or group. Challenge coins can also recognize a person's special achievements.
Add a header to begin generating the table of contents
Challenge coins are small metal coins that fit the palm of your hand. They are made of metal. Each challenge coin has a unique design that belongs to the company that ordered it.
The organization's coat of arms or badge is etched directly on the coin. The motto of the organization can be engraved on the edge of the coin. They can be coated with colored enamel in etching, depending on the unique design.
While they are usually round, some challenge coins come in other shapes. Special designs even include cutouts or unique features such as bottle opener tools. Challenge coins are made from a variety of metals. Some are made of zinc, bronze, and brass. Other more expensive versions even have 24-carat gold.
Traditionally used as military recognition tokens to prove their membership, they are exchanged in recognition of the actions of their owners.
Each coin comes with certain perks, such as reserving a seat in a special feature or enjoying the first option in the ration.
In recent years, however, this tradition has gone beyond active-duty military personnel to include law enforcement officers, firefighters, school alumni groups, and clubs or organizations large and small.
While there are some guidelines on what can and can't be done with them, it is usually open-ended when it comes to the actual design of coins.
2. What does a Challenge Coin represent?
Challenge Coins represent organizations, units, and teams. They can also represent achievements, anniversaries, special events, and some other organizations. They build strong, lasting bonds between those who accept them and represent them. They have a long tradition in military history. But the military isn't the only service that uses them. Civil society began to use challenge coins to represent the achievements of their business. This is a new way to represent a challenge coin. They use them to build team morale, connect people with similar interests, and even promote their brand.
3. 
What is the purpose of using a challenge coin?
The purpose of the challenge coin depends on the reason it was originally manufactured. It can be used for membership, recognition, to create bonds between people in a group or to commemorate anniversaries or special events.
member
In the military, a challenge coin can prove that you are a member of a certain unit or served in a specific mission. What they mean is that you are part of the elite.
In early military history, they were used for security. Service members may be required to present coins to prove their loyalty. This may not be necessary today, but being part of a team is still a strong military tradition.
Recognition – Rise above and beyond within the scope of duty, ideal for military, first responders, and the workplace
Bonding – To demonstrate a connection with others, inspire memories, and build new friendships, veterans often show off with their coins when appropriate
Branding – Popular in business meetings, fairs, and events, as well as in schools of sports teams and other clubs
Soldiers use their coins to prove their loyalty. Retirees can display them in the office with ribbons and uniform patches.
4. What is the history behind the challenge coin?
While there is no concrete evidence of where the idea of a challenge coin came from, it is believed that the challenge coin was originally used in ancient civilizations, such as Rome, where soldiers obtained tokens after fierce battles.
This is to show their courage, worth and hard work.
Other recalls say that the challenge coins date back to World War I when the Allies would hand out stamped bronze medals to their soldiers.
The story goes on to say that when a soldier was mistakenly captured as a German spy, he displayed his medal, which was recognized by the allies and thus spared his life.
5. Where does the "challenge" part of the coin come from?
Although these coins have been around for a long time, the "challenge" part of the coin did not begin in Germany until after World War II.
Americans stationed in Germany would take part in something called a "Fenning check."
During these checks, each soldier is required to show Pfenning when the check is summoned, otherwise, you will be stuck in the round of paying for beer.
However, this eventually evolves into displaying your medallion or challenge coins.
Soldiers would put down their medals, and if any member of the group could not show their medals, they would have to buy drinks for the person who challenged them and everyone else who gave away the coins.
However, if everyone has their own coins, then the initial challenger will have to buy the whole round of drinks.
6. What materials did you use to create a challenge coin?
In addition to cost, the production process also determines the material of challenge coins. There are two basic processes by which to manufacture: zinc-alloy castings or die-struck brass. Zinc alloy castings offer the advantage of low cost. Zinc casting also allows more flexibility in design like cutouts found on spinner coins or bottle opener coins. While a die-struck brass coin is more expensive, the result renders a far superior product. 
7. What design solutions do you offer?
We offer many different design options, and the minimum size you can choose from is a 1 1/2 inch Challenge Coin. The next size is 1 3/4 inches. This is followed by 2 inch sizes, 2 1/4 inch sizes, 2 1/2 inch sizes, and finally 3-inch sizes.
You can choose to have no color in the Challenge Coin or get the color only on one side of the coin. If you wish, you can also choose to add enamel colors on both sides of the challenge coin. You can even get a three-dimensional mold for your challenge coins if you choose to further personalize the badge for your organization, armed forces unit, or yourself.
8. How do I customize my own challenge coin?
If you wish to create your own challenge coin for your organization, then you are in luck.
The process is actually quite simple and can be done quickly by following a few steps to create your own design.
First of all, before starting the first challenge coin, you need to consider the following points.
Color: Customizing your coin means choosing the right color. You want to make sure it's obvious enough for others to recognize, but not so colorful or bright that it becomes overwhelming.
Edge shape: The edge shape of the coin is also important. Some people opt for smooth edges, while others prefer a designer look with a raised exterior – it all depends on your aesthetic and stylistic pursuits.
Single-sided vs. Double-Sided: Finally, it is necessary to consider whether you want to challenge the coin unilaterally or bi-sided. The double-sided option may generate more interest among others who are looking at your design – but it also means that there are two separate sides, each with a different image on each side (which may take longer for the engraver).
9. What is the standard size of a challenge coin?
Challenge coins are larger than coins in your pocket but small enough to easily fit into the palm of your hand. Popular sizes range from 1.5″ to 1.75″, but they can be larger.
Determining the correct size of a coin depends on the details of what you plan to place on the coin. The fine details in your work are of the highest quality in a coin of around 1.75 inches.
Your coins don't need to be round, custom shapes make the coins very unique to your organization or group. You can create cars for car clubs, planes for pilots' clubs, or badges for firefighters or law enforcement officers. Challenge Coin is a collectible way to indicate that the recipient is a member of a special group.
When you custom-design a coin, it is important to realize that if the design includes cutouts, the surface area of the coin will be smaller. You may need to order a slightly larger coin to capture the look you want.
10. How to choose a coin size?
The style of the challenge coin will affect the size of the coin you need. If you are designing the Challenge Coin as a bottle opener, it is recommended that the size be at least 2 inches and not less than 1.75 inches. You need enough size to provide the necessary leverage to open the bottle.
11. How much does it cost to customize challenge coins?
Challenge coins typically cost $1.00-$3.00 per coin, and in general, 100 coins or less can be fully produced in operation.
But more specifically, it depends. Challenge coin pricing depends on a variety of factors, including size, quantity, and color. Your organization's badge or logo and the brand standards that surround it often determine the color. Complexity, industry standards, and personal preferences will determine the size of the coin.
The two cost components of a challenge coin order are the unit price and the mold fee. The mold is a cylindrical piece of tool steel that we process into the reverse of your design and use it to stamp (mold strike) your coin. This is one of the most expensive fixed costs we incur while making any customized challenge coin order. For orders of 300 or more coins, the size does not exceed 2.50 inches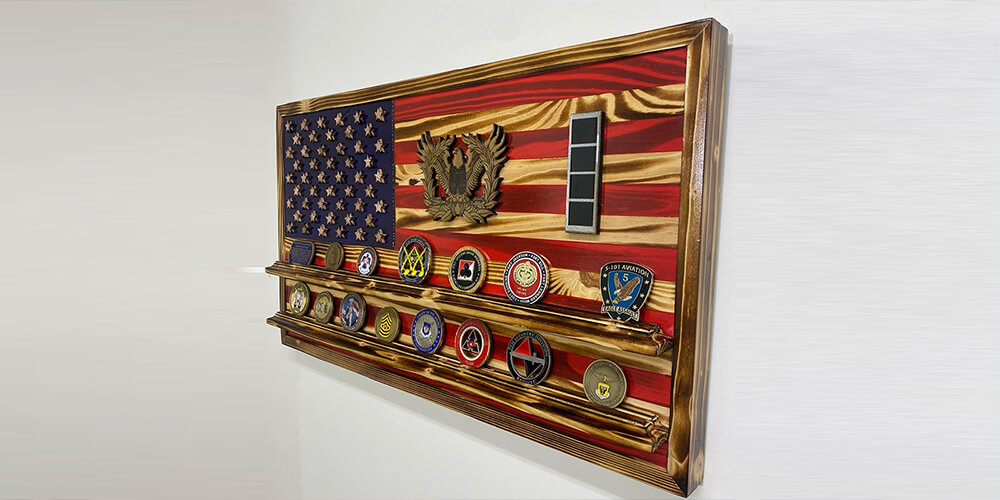 12. How do my choices about size, edges, plating, and other options affect pricing?
The size of the Challenge Coin and the number of Challenge Coins you want will affect the cost of the Challenge Coins. In terms of plating, highly polished gold, silver, copper, bronze, and black nickel plating are all completely free. Antique gold plating costs an additional $0.2-0.5 per coin, and antique silver plating costs another $0.1-0.35 per coin. If you want to get antique copper or antique bronze plating, either option costs an extra around$0.20 per coin. The exact price depends on the size and thickness of the coin.
Adding slash edges or flat braided cut edges costs an additional $0.1-0.25 per coin per side. Diamond cross-cut edges are $0.15-0.3 more per coin per side. Prices for 3D molds start at $50, and double plating is an additional fee of $0.5-0.8 per coin, plus $0.1 per cut. One plastic coin capsule is $0.35 each and an acrylic coin case is $0.8 each.
All the options detailed above offer you a variety of possibilities when designing Challenge Coin. Explore the rest of our website to create your own challenge coin tradition today, or contact us for more information!
13. How do I keep my Challenge Coin clean and protected?
Keeping Challenge Coin clear and polished may seem like an easy task, but there are a few tricks that can produce the best results. Today, let's take a look at the best way to clean Challenge Coin without damaging Challenge Coin. There are several useful ways to keep them polished and look their best, and we're here to help. Before we go any further, keep in mind that you can combine most of the techniques mentioned below to keep your coin in its original state.
The most obvious and common way to clean Challenge Coin is to clean it. Please note that there are many wrong ways to wash your Challenge Coins. In order to wash them properly, it is important to assess how dirty they are. If your coins have quite a bit of dirt buildup, just place them in warm tap water for about thirty seconds on each side and then dry them on a towel. Do not rub them unnecessarily, as dirt may scratch the surface of the coin. However, washing coins under running water will only get you so far.
If slime and debris continue to pile up, your coin will require some extra work. After washing the coin, immerse it in distilled water or soap solution. Distilled water is a gentle method that removes most of the build-up without affecting the surface or color of the coin. Simply soak your challenge coins in distilled water for a whole day. Immerse each coin separately so that they don't come into contact with each other. The next day, remove the coin and scrub with a soft toothbrush. Immerse it again and repeat the process if extra attention is required.
For greasy coins, make a soapy solution with dish soap and warm water. Immerse each coin individually in water and rub them into the water with an old toothbrush. Be gentle and watch the slime and debris slowly peel off the coin. You can also soak the challenge coin in a soap solution. But keep in mind that if you do, make sure you are using a soft soap with no acidity. This will ensure that your coins remain unharmed and damaged. Almost any coin will become sparkling and clean after one soak with a regular dish soap solution. However, if your coins are particularly dirty, rinse and repeat as needed.
Ancient coins are popular among collectors, and they are usually made of very soft metal. For these coins, use olive oil to remove any build-up. We know what you're thinking. And, yes, olive oil is used. Olive oil loosens the accumulated dirt, making it easier to remove debris without damaging the coins underneath. The process is slow and only fits the dirtiest coins in your collection. Let your coins soak in olive oil for a week or more. During this time, change the oil when the oil changes color, as this indicates that it has been saturated with dirt. Some ancient coins take six months or more to clean properly. However, after a few days, your military coins will be fine. After soaking, remove the coin and gently rinse it with dish soap and water to restore its original luster.
Sometimes, your coin may become viscous due to glue, cement, or some other adhesive material. While this is bad news, it is not irreversible. To remove this dirt, you need to pry it open from the coin with a toothbrush. While this is a risky move, it is sometimes unavoidable. Before resorting to prying pull, try soaking the coin in olive oil to soften the buildup. This will make the material easier to remove without damaging the coin itself. While dipping the coin in water and soap can remove grease, you may need something stronger else.
14. How do I display/display my Challenge coins
The most common ways to pack double-sided coins are PVC bags, leather bags, and acrylic coin boxes, which are usually stored only in drawers or backpacks. If you're a collector of double-sided coins, you'll want to display them on your desk, in your window, or even on the wall. We can provide this kind of high-grade packaging, such as double-sided coin picture frame, wooden frame and hanging easel, double-sided coins can also be perfectly displayed as works of art.