SICpin is a professional enamel pin manufacturer China with more than 20 industry years.
With an area of 1,300 square meters, 42 workers, and 26 manufacturing machines. We have always kept maintaining technological innovation in the enamel pin industry, guaranteeing the products quality with advanced equipment and strict management concepts. Our products include enamel pin badges, medals, challenge coins, watch band charms, keychains, and other hardware crafts.
Our products are not only selling well in the domestic market but also exported to more than 42 countries and regions like Europe, South East Asia, Japan, South America, etc.You can find us in many brand companies, including deli, Casi, Cocacola, Tesco, HUAWEI, PHILIPS, Walmart, and so on. 
Small ideas count! Trust us, we will help you know your thought is able to create unlimited value.
Tempus cursus laoreet massa enim
Faucibus dignissim purus tellus imperdiet
Ut turpis purus bibendum proin
Rhoncus scelerisque ultrices nunc
"Est morbi mauris in tortor lorem in massa aliquam est nulla ante sed urna risus tristique curabitur feugiat sit penatibus pretium sit porttitor iaculis tristique at feugiat maecenas sed fringilla turpis dictum."
Equipment: Mold-engraving machine, Stamping machine, Die-casting machine, Coloring machine, Polishing machine are all purchased brand-new, and regular maintenance are made by professionals.
Employees: Pre-job training and on-the-job skill improvement training are required, the wages are linked up to production responsibility system.
Orders: The order backlog in each production department cannot exceed 3 working days.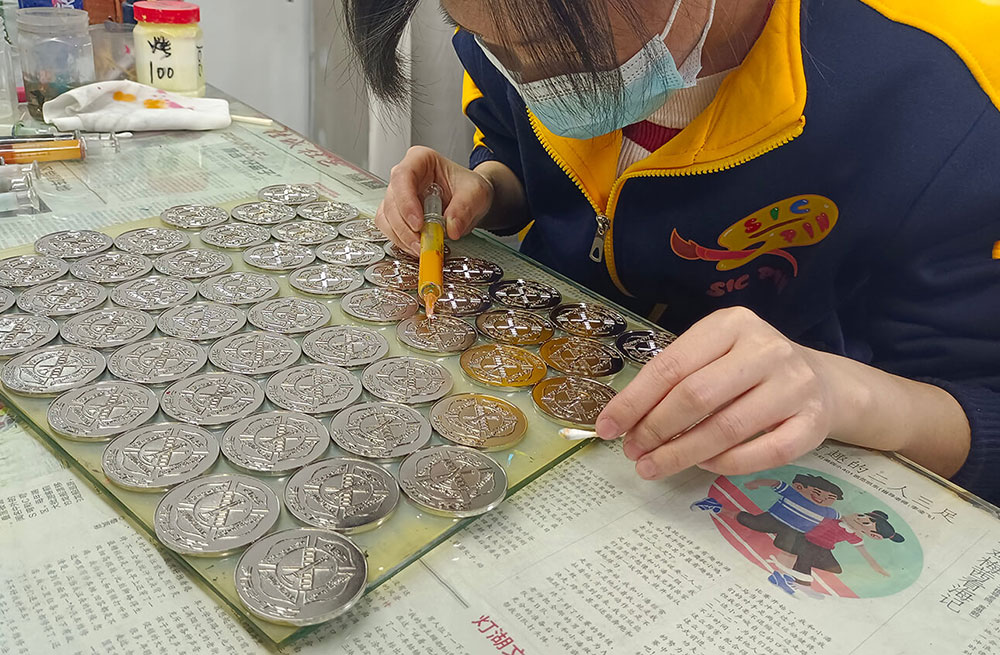 Artwork: Will not use for production until customers approve.
Materials: Maintain a good long-term cooperative relationship with raw material suppliers and purchase high-quality and eco-friendly materials.
Workshops: All directors have more than 3 years of industry experience.
Quality: There are 2 total quality inspectors, and 1 inspector in each production department to ensure the correctness and quality of the products.
Progress: Salespersons need to keep effective communication with the customers, and actively send the production updates to the customers for confirmation to avoid mistakes.
Maintain a good habit of communicating with peers and non-peers to improve our market acumen. After in-depth communication with customers, we will do mold engraving, sampling and details
improvement, until to meet the standard and functional use.
Assist our customers to seize the market opportunity in innovation. For example, we have made kinds of creative and interesting accessories (pearls, mirrors, LED lights, magnifying glasses, etc.) and special plating (anodic oxidation,
rainbow etc.) helped customers break sales records.
Looking for a enamel pin manufacturer?
Contact us for design assistance, free quote, and expert advice today.
Your inquiry will be replied within 12 working hours, and we respect your privacy.