The importance of medals has increased over the past few years. The role of medals has also become more and more important for various reasons. Since these medals are used for a variety of reasons, they always come in different shapes, sizes, and colors.
Many types of different materials are also used to make these different types of medals. In the medals market, bespoke medals have dominated as they are the first choice of most of organizations, corporations, and individual buyers. There are many benefits to choosing a personalized medal option.
If you are customizing your medal, you can choose your preferred material, design, size, shape, and everything else that matters. The appearance of the custom medal is completely made according to your preferences and requirements. These are the main reasons for the growing popularity of custom medals. If you also decide to use the personalized medal option, you must be curious about how this happens and all the processes of customizing the medal.
If you understand the process of custom medals before buying from a source, you'll know exactly what you're buying, which will certainly help you purchase a product that fits your goals while also giving you mental satisfaction. Let's take a look at the process of our company's customized medals.
1. What Materials can be Used for Bespoke Medals
There are some premium materials that are widely used to make custom medals. Without further ado, let's get to know them so you can choose the most suitable material for your custom medals.
1) Zinc Alloy:
Today, the most common material used to make custom medals is zinc alloy. Zinc alloys have become more environmentally friendly than ever due to continuous process improvements. Therefore, it has become the material of choice for most customers when they need custom medals.
If you want to show so many details in your Bespoke medals through 3D models, such as different characters, animals, landscapes, plants, or anything else crystal clear, then you can choose Zinc Alloy without any hesitation. This material is very suitable for making medals of various shapes. Zinc alloy is a good choice if you want your custom medals to last a long time, as medals made from this material will not rust and recipients can keep them for years.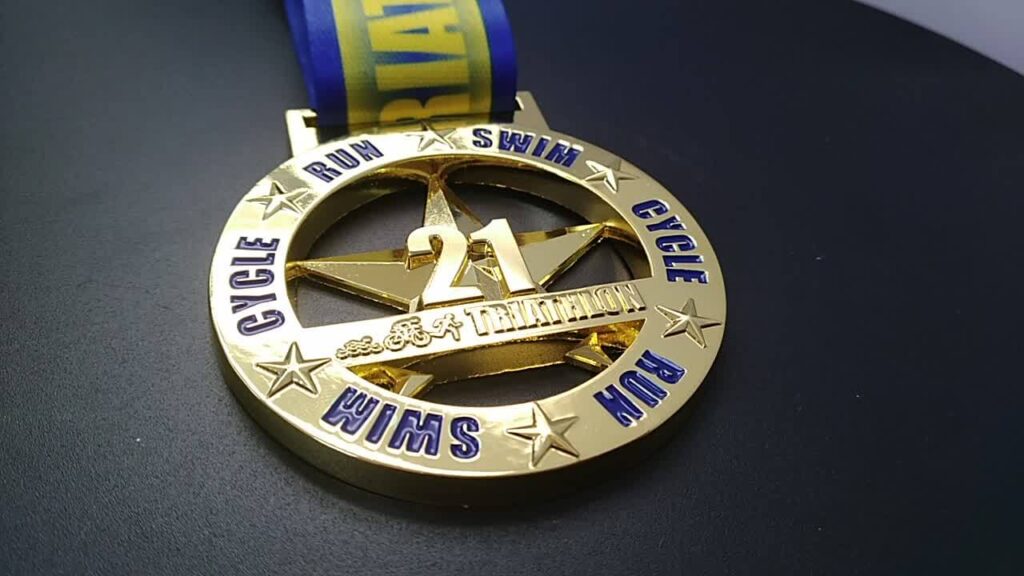 2) Iron:
Iron on custom medals must be 40-60mm in diameter if you want to use it. A medal larger than 60mm will not fit into the stamping process because the iron is hard. Due to these reasons, iron medals are generally used only for smaller medals.
In comparison with zinc alloy, iron will not perform as well as zinc alloy in the details of the medallion pattern, especially the 3D pattern. Experts recommend zinc alloy for custom medals larger than 60mm instead of iron if you want a larger size. After a long period of oxidation, the outer layer of electroplating on iron medals will rust as well.
3) Copper:
Copper is popular for military custom medals. They are very expensive, more expensive than both iron and zinc alloys. If you have a reasonable budget and the event is very important, you should choose copper as they are softer than other materials, which is why copper is very suitable for making 2D and 3D custom medals. Bronze turned out perfect in every way. However, most sporting events do not use copper for custom medals due to their high cost.
2. What Process is Required to Make Bespoke Medals?
Knowing all about the process of customizing your medals will give you a better understanding of these medals and you will be able to choose with more confidence and care. Let's take a look at all the steps a custom medal goes through before it reaches you:
1) Custom Medal Artwork Production:
Back then, the drawing of custom medals was done manually. Designers and artists paint with their hands on paper. But that changed with the proliferation of computerized design systems. Everyone uses computers to create artwork now, and it's faster, easier, and more accurate than ever before.
2) Mold Making:
To take custom medal making to the next level, designs are imported into sculpting software for editing and 3D modeling. Then we carefully carve the mold with a machine. We have to use different types of carving knives of different thicknesses to provide different thicknesses on different lines. Then we check that the mold matches the design we made earlier correctly.
3) Grooving:
The raw materials for the custom medal can be placed in the mold after the design has been finalized and matched. Based on the shape and size of the medal, the notch size varies. This is how we improved the smoothness of medallions. Also, it is very helpful in controlling the rejection rate.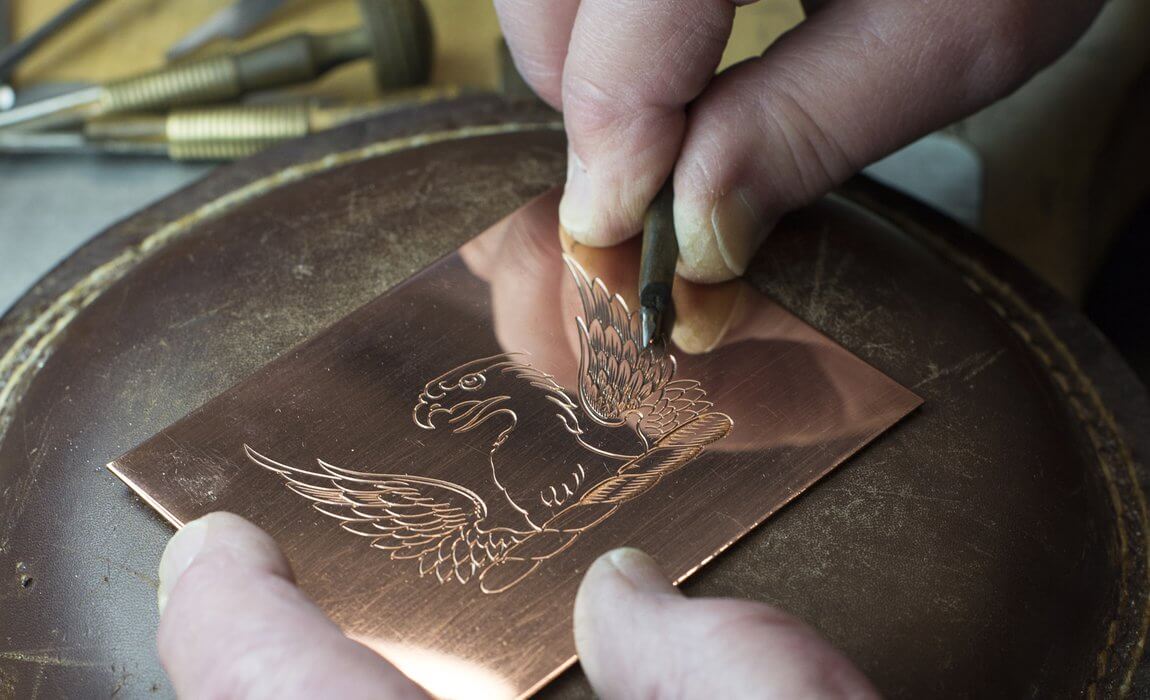 4) Die Polishing
After the grooving stage, we always notice that there are always some minor engraving knife marks on the surface of the custom medals as well as unnecessary sandblasting. We got rid of those in the engraving process with proper mold polishing. We use 220# whetstone, 350# whetstone, 450# whetstone, and 600# whetstone to deal with the excess parts that reduce the beauty of the medals. We carefully carry out the whole mold polishing process step by step, we do not leave any smallest corner. We also polished the edges perfectly.
5) Die Casting
We use die-casting machines for custom medals as they are perfect for these types of medals. If the product is large, a small machine is not enough to get those medals. We put the mold inside the die-casting machine and then adjust the front and back of the mold properly for better consistency.
Our pressure is also adjusted accurately to ensure high quality. Prior to mass production, we always check samples of customized medals. In order to make production more efficient, we automate the machines after completing quality checks.
6) Product Polishing
We always ensure that the front and back surfaces of all custom medals are polished as we always ensure that the product reaches the customer with a smooth finish on every side, including the edges.
7) Electroplating
After polishing custom medals and smoothing all sides, we properly clean them. Then we plate copper color on the surface, then add any color requested by the customer in the order. If you want to buy custom medals from us, you can look forward to colors like Antique Gold/Silver/Bronze, Shiny Gold/Silver/Bronze, Matte Gold/Silver/Brass, Jet Black/Blue/White, Imitation Gold, and many more. We then cover the custom medals with oil and bake them. We put them in the oven for two hours so that the plating coating is protected from oxidation.
8) Plating Quality Inspection
During the production process, some of the customized medals have watermarks and bubbles on the surface. Some products also have color differences. Therefore, we should treat them properly and take them away to prevent these defective products from reaching customers.
9) Coloring
We started work on filling the enamel color according to Pantone solid coated. Based on the input area size, we choose the most suitable cylinder so we can fill it with color appropriately. We were very careful in this part of the job as we had to avoid spills and discoloration. These jobs require steady hands, and we have a lot of them in our factory. We then clean the surface of the custom medals, in the process unwanted color spills out.
10) Quality Control after Coloring:
This is the process of custom medals manufacturing, we check the quality properly after completing the color fill. We have so many quality inspectors working together to check custom medals one by one, they make sure all the parts, text, and colors are correct before the medals are ready for delivery.
11) Custom the Ribbon
 Ribbons are an important part of custom medals. Without ribbons, they cannot be used properly. And the ribbon also plays a vital role in making the medal stand out. If the ribbon is not properly matched to the medal, then the full purpose of the medal will not be properly fulfilled. This is why ribbons for custom medals are important. We have our own ribbon workshop, we produce different kinds of ribbons to meet any type of requirement. The ribbons we make for custom medals are sublimated ribbons, printed ribbons, striped ribbons and woven ribbons. You can choose any of these ribbons for your custom medals according to your preference and budget. Different ribbons have different strengths and qualities, which is why they are priced differently. You can add your own text on some ribbons of custom medals. This way, you can not only customize medals but ribbons as well.
12) Accessories Installation
When custom medals are made according to your requirements and preferences in design, shape, size, and other aspects. You choose the ribbon, and after choosing the ribbon, we install the attachments to the custom medal. This process is all about attaching additional necessary items to the medals, such as ropes, chains, and different kinds of ribbons.
13) Packaging
In our packaging department, we also have a ribbon sewing system. All highly skilled workers in our factory make sure they wear gloves while handling custom medals so that the medals are free from any type of fingerprints. We use the highest quality plastic bags and cartons to properly protect the products during overseas transportation.
3. I Want to Customize A Medal, What should I Do Next?
1) If you want to buy custom medals, then first, you will have to mock the design of the medal so we can build from it. If you don't have a design, you don't have to worry as we have an easy workflow starting from a logo or a sketch. Once we've seen the logo or a draft, we'll understand what you need, and then we'll move on.
It is easy for us to understand the requirements of medals, such as hard enamel, soft enamel, different types of colors, and so on. Then you can tell us what material and other aspects you want to choose, such as 2D or 3D molding. After you tell us this, we will be able to offer you the price of the custom medals according to your requirements.
2) Want to know what sizes the custom medals are available in? Custom medals are usually available in sizes 2"/2.25"/2.5"/2.75"/3"/3.5"/4"/4.5"/5" or 50/55/60/65/70/75/80/85/ 90/90/100MM and so on. All you have to do is choose a size and tell us your requirements, we will offer you the most accurate, reasonable, and affordable price compared with other medal manufacturers.
3) After understanding the size and process of Bespoke custom medals, you must be wondering about the thickness of the medals. The usual thickness of custom medals can be 2/2.5/3/3.5/4/4.5/5/5.5/6mm etc. Usually, people use a 3MM thickness because it is more convenient. Therefore, if customers are confused about the thickness of custom medals or don't know what thickness to order, then we would suggest they use 3MM. This thickness of custom medals is affordable for customers. However, this thickness will give the recipient a sense of weight.
4. What are the Differences between Bespoke Medals?
Custom and bespoke medals actually refer to medals customized according to customer requirements. So, both basically mean the same thing. However, US states use custom medals, which European countries call bespoke medals.
1) Style and Shape
Medals have different cycles. Circular and round-shaped rings are more commonly used in the United States, most of which are attached to the jupe ring of the medal with a sewn V-shaped ribbon. Customers can change the ribbon later without any hassle, just use the clip and connect it perfectly with the medal. This allows the medal and ribbon to separate effortlessly.
On the other hand, most custom medals in Europe are square. When customizing medals, ribbons are usually placed inside the rings of the medals, and then they are sewn together with thread. If someone later wants to change the ribbon of a custom medal, he must leave a gap in the middle of the ring of the square medal, which is a very simple process.
2) Plating Colors
European custom medals and other national custom medals have different plating colors. Medals from countries such as the United States, New Zealand, Canada, and Australia use brightly colored plating. Therefore, these custom medals have a smooth surface and a good gloss. However, they are easily scratched. On the other hand, European countries prefer antique plated custom medals. They're visually stunning, with raised and dimpled metallic effects and a black vibe. The plating on these custom medals is more durable so they are less likely to get scratched.
3) Dimension and Size
The United States uses inches as the size of its custom medals. In the United States, the most common sizes for custom medals are 2"/2.25"/2.5"/2.75"/3"/3.5"/4"/4.5"/5". On the other hand, European countries use millimeters to measure their custom Medals. Common sizes of these medals are 50/55/60/65/70/75/80/85/90/90/100MM and so on.
4) Packing Method
Custom medals from Europe and America are also packaged differently. Due to their bright colors, people wrap all the medals individually and put them in bags. In order to prevent scratches during transportation, Americans avoid rubbing the medals against each other.
Bespoke medals, on the other hand, are not easily scratched. That's why they are packed in a bundle. Since they come in an antique plated color, you can pack 25-30 in a bundle with no problem. It's also good for the environment, and it's easy to think that there shouldn't be too much litter at the event site. So when it comes to custom medals, it is possible to pack so many medals in one big bag.
5. How to Choose A Reliable Bespoke Medal Manufacturer for Your Business?
If you want to buy custom medals at an affordable price, then you must find the source manufacturer and make sure to stay away from the traders.
1) Find A Manufacturer rather than A Trader
Source medal manufacturers typically produce medals and then sell them. They have a complete production process from artwork to packaging and shipping. Traders, on the other hand, buy medals from manufacturers and sell these medals to customers. So if you want bang for your buck, go for source medallion manufacturers. We are a medal manufacturer where you can buy custom medals without engaging with any middlemen.
2) Check the Product Catalogue
You can view all products through the medal manufacturer's website. In the product catalog, you will see reasonable prices for custom medals as well as quality and delivery times.
If you see that they have a large collection of medals and offer custom medals, then you should know they are the right supplier for you.
You can browse through all the custom medal pictures uploaded on the website to check their quality. Check out the styles and consider if you like them.
3) Ask for A Sample
You can also ask the supplier to send you customized medal samples, and you can check the quality by yourself. Customers have to pay for the freight even though the samples are free.
4) Check the Certificate
If they have a certificate, then you can trust their service and quality. You can then check the reviews section to see if they have lived up to their promises to previous clients.
Conclusion
Now you know what the right way to make custom medals is. We use all these processes and you can easily buy custom medals from us by letting us know your requirements. We have also passed ISO, Sedex, environmental protection, and other certifications. You can trust us to provide you with the best quality results.