Soft enamel pins are widely used as company LOGO badges, souvenirs, promotional gifts, etc. Meanwhile, they are often worn on clothing, hats and bags.
SICpin customizes soft enamel pin badges according to your ideas or designs. We offer professional advice on enamel color, size, backing, plating and so on if needed. We can also add epoxy to prevent soft enamel pins from fading, scratching or other problems, and provide additional diversified methods such as 3D, gem, print, etc., to enrich the badge texture.
The monthly output of badges reaches 700,000 pcs. We have been adhering to the highest quality and the most professional service to meet customers' badge needs.
Customize Soft Enamel Pin
We can provide customized service according to customers' drawings or ideas.
Sicpin Soft Enamel Pin Features
SICpin Soft Enamel Pin Specification
Artwork
Design assistant: We can provide free design assistance based on your drafts or ideas.
Production experience: We provide different options for your design according to our practical production experience
Property copyright: Any idea is priceless, and you will own the copyright to the art.
Respect original: We respect originality and are committed to crack down on theft.
Material
Color effect
Printing
Accessories
Steps to Customize the Soft Enamel Pin
Custom Soft Enamel Pin Manufacturer FAQs
From concept to shipping, SICpin provides high quality and fast shipping to ensure timely delivery.
Are You Looking for Soft enamel Pin Manufacturers?
Contact us for design assistance, free quote, and professional advice today.
We will provide you with a free quote within 24 hours, and we respect your privacy.
Soft Enamel Pins FAQ Guide
That's a common and traditional process used for making lapel pins. After polishing and plating processes, adding the selected enamel Pantone colors to the appropriate areas of the pin, the pin is then baked in a hot oven to form a firm surface. An epoxy coating can be added if desired to prevent color fading for soft enamel pin.
1. What is a soft enamel pin?
Soft enamel pins are one of the most popular types of pins, with a raised and textured look and feel that many people love. Enamel pins must be baked in the oven to cure and harden the enamel. Unlike hard enamel pins, the soft enamel metal plating process is done before filling the enamel.
Add a header to begin generating the table of contents
Soft enamel pins are the most popular type of custom lapel pins. The pins are die cast and the enamel is hand painted. The color is positioned lower than the raised metal lines, giving the pin a textured look and feel. These pins are a little heavier than the photo screen pins. By default, soft enamel pins have no epoxy coating, so you can feel the texture of the design.
Soft enamel pins have recessed areas of color. The enamel filling is just enough to paint the hollows. The result is a pin with metallic edges and lines. This is a popular type of pin because of its texture and classic look.
If you want rainbow metal plating or custom metallic colors, then soft enamel is your only option. We can add a clear epoxy-coated soft enamel pin for a flat and shiny finish, or you can keep the raised metal look.
2. How to make soft enamel pins?
Soft enamel pins are made in a special way, and the process is fun because it creates bright colors that add dimension to the finished pin. Soft enamel pins are die-struck, which means they are stamped. This allows the recessed and raised parts of the design to remain. Recessed areas are filled with air-dried tan enamel paint. This will cause the paint to settle. Because there are thin metal wires around each painted area, the enamel is attached to the pins. You can actually feel the raised lines if your finger moves over the pin. But their pins are not "stock" pins.
Soft enamel pins are usually made with concave enamel. To make a soft enamel pin, apply enamel paint to the recessed part of the pin and let it dry. Soft enamel pins have a matte finish because enamel stays at a lower tempt than rigid metal borders.
3. What are the advantages and coins of soft enamel pins?
1) The main advantages of soft enamel pins
They are cheap.
They have a three-dimensional and textured appearance.
They are lighter and thinner than hard enamel pins.
They allow various plating options such as dyes, surface treatments, metals, etc.
They capture every tiny detail.
Their creative speed is very fast.
2) The main disadvantages of soft enamel pins
The ridges of the soft enamel pins can get stuck, tearing clothing.
They don't have a protective coating, so they can be easily broken or otherwise damaged.
Soft enamel pins don't have the luxurious appearance of hard enamel pins.
They are more likely to have imperfect designs in the manufacturing process.
5. What are the differences between soft and hard enamel pins?
Hard enamel pins vary in durability, cost, appearance, and elegance. We will discuss them in detail below.
1)Durability
In terms of durability, hard enamel pins are more durable than soft enamel pins. The reason for their robustness is that hard enamel pins have a protective film, while soft enamel pins do not.
2)cost
As mentioned earlier, hard enamel pins are more expensive than soft enamel pins. Unlike hard enamel pins, soft enamel pins don't take long to produce, and the process and polishing make them expensive.
3)texture
When discussing texture, soft enamel pins are preferred as they are more textured than hard ones. Soft enamel pins have grooves, a rigid surface, and raised edges to give them more texture.
4)grace
Both are elegant. Some people prefer a smooth finish, while others prefer a textured finish.
6. Why choose soft enamel pins?
High-quality work is done by pressing the pin design into the metal through a die, choosing metal plating, and then filling in the recessed areas with colored paint that matches the artwork. The dimpled and textured finish is of very good quality and the colors are very nice.
Baseball trading pin lovers choose soft enamel pins for the look and feel. These pins are made in a way that gives them more texture than other pins. They tend to be a bit heavier and have a thicker design, which adds to their overall weight. They feel sturdy when you hold them in your hand.
Custom soft enamel pins also come with a high level of detail. The enamel lacquer comes in a wide variety of colors, making it possible to design pins with a wide range of details. Soft enamel pins are also the best choice for reinforcement due to their solid construction. Cut, hanger, and glitter applications are more effective than soft enamel pins because of their construction.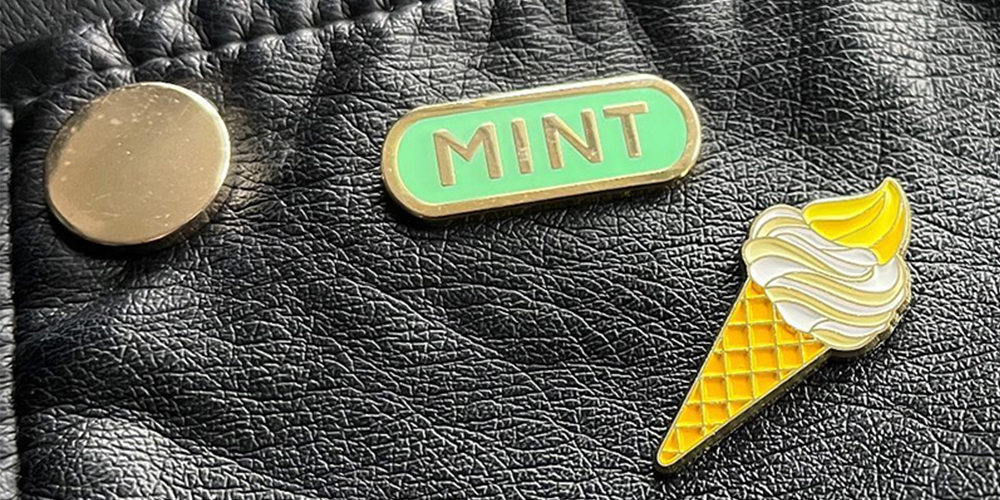 7. Soft enamel pins vs hard enamel pins- When to choose?
The biggest difference between hard and soft enamel is the texture of the finished product. Hard enamel pins are flat and smooth, soft enamel pins have raised metal edges. Both methods use the same metal mold and both will have bright and vibrant colors. But they also have some special options, which are designed for soft enamels.
1) When to choose soft enamel?
Soft enamel is one of the most popular types of pins, with a raised and textured look and feel that many people prefer.
Soft enamel pins must be baked in the oven to cure and harden the enamel. Unlike hard enamel pins, the soft enamel metal plating process is done before the enamel is filled. This means they are metallic finishes that can only be used on soft enamel. If you want your pins to be rainbow plated, painted black, or painted in any other custom color, tan, you'll need to use soft enamel.
One of the most important things when creating a custom enamel pin is the choice of electroplating. A good plating choice can change the overall look of a pin, elevating it from a plain enamel pin to something more premium, modern, and edgy. This is especially important for soft enamel pins if you want to take advantage of a variety of colors.
What's more, soft enamel pins give you a terrific degree of design freedom and endless possibilities to customize the pins as you see fit. Whether you want glitter and luminous enamel, epoxy coating, rhinestone, sandblasting, or engraving and embossing, soft enamel pins give you a lot of choice and flexibility.
While soft enamel pins may not meet the elegant standards of modern hard enamel pins, they are still attractive due to the different textures and heights between the colored sections and the metallic ridges between them. In conclusion, soft enamel pins are one of the most popular enamel pins. That's because they're attractive, detailed, and affordable.
Their name may suggest that they are "soft", but they are not. You don't have to worry about soft enamel pins losing their shape or texture. Therefore, if you want an enamel pin with bright colors, thin lines, and a neat design, you should choose a soft enamel pin. You can also opt for soft enamel pins if you want one that really stands out and looks professional.
2) When to choose hard enamel?
Hard enamel pins are more durable and scratch resistant than soft enamel pins. Many people choose hard enamel over soft enamel because it looks clean and finished. Many designs are available with both hard and soft enamels, so it's mostly a matter of personal preference. The hard enamel pins are first filled with the color, and the surface of the pins is ground and smooth. Grinding and polishing make them incompatible with some metallic finishes. If you want standard gold or silver metal plating, tan hard enamel might be a good choice for your design.
A very important difference between hard and soft is that some metal finishes are only available with soft enamel. With soft enamel, your metal can be painted in any custom color you like. The most popular color is black. If you want black metal with hard enamel, your only option is black nickel. Black Nickel is actually a very dark gray color with a slight sheen. If your metal is real and deep black is important to your design, tan soft enamel is your best bet. Rainbow plating, also known as anodizing, is only available on soft enamels.
8. Are soft enamel pins cheaper than hard enamel pins?
Yes, soft enamel pins are relatively cheaper than hard enamel pins. The easiest way to tell a hard enamel pin from a soft enamel pin is by appearance. Hard enamel pins have a two-dimensional smooth look. In contrast, soft enamel pins have a three-dimensional rigid surface that feels designed when you touch it.
Both hard and soft enamel pins are ideal fashion statements, but for someone who doesn't know the difference between the two, choosing between the two can be a challenge. Flat or smooth hard enamel pins are expensive, while hard, ridged, and soft are affordable.
9. Which enamel should I choose?
1) Soft enamel
The main difference between soft and hard enamel is texture. If you touch a soft enamel badge with your finger, you will immediately feel a "bump" on its surface.
Soft enamel pins are able to accommodate more detail, so we often recommend soft enamel for more intricate and intricate designs, such as figures and faces.
Soft enamel badges look more "dimensional" because the enamel dries under the metal ridges of a custom mold that prevents the different colors from flowing and mixing together. This process resulted in the badge having slightly raised edges, which gave the "bumpy" texture.
Price is an important factor in buying pins for most people. Soft enamel pins tend to be cheaper because they don't take as long due to the manufacturing process.
If you want a smooth surface on soft enamel pins, add epoxy to the surface to achieve this. The epoxy almost resembles a clear bubble, creating a flat finish on the surface of the badge. If you want to screen print on your soft enamel pins, then epoxy must first be applied to a level surface for printing.
If you want rainbow-plated pins, black dye plated, or an antique finish, you'll have to use soft enamel. Hard enamel is a polished finish to give a smooth finish and the above options will simply wipe off.
2) Hard enamel
Hard enamel pins (also known as cloisonné pins) have a smooth, flat surface, which means you won't feel the ridges like soft enamel pins. If you prefer a smoother and polished look, a hard enamel badge might be better for you.
Hard enamel badges are usually more expensive because of the longer baking time. However, they have some extra qualities like scratch resistance, slightly more durable, and they won't lose their luster or color over time.
If you want to add screen printing to your pin badges, then hard enamel is the enamel for you. Screen printing is perfect for those who want to add more detail without the need for plated wires. This means you can also add extra color to your designs. Screen printing also allows you to add shadows and highlights, which you wouldn't normally do by using regular enamel.
10. What is the best design for a soft enamel pin?
Because soft enamel pins are die-cast and feature a raised metal border to separate all enamel color fills, they are the best type of pin for designs with defined and clearly separated colors. The best of both worlds is the slightly more expensive cloisonne lapel pin. It features clean color delineation soft enamel pins but gives you the option to add fine details to custom pin
Plating options for your custom enamel pins are extremely important. It can change the look of the entire pins, taking it from classic American style to modern and edgy. Most custom corporate pins feature our traditional metals plated with gold, silver, or copper. For pin designs with light colors or a lot of text, we recommend these metal-plated antique versions for enhanced legibility. Modern designs often use our colored metallic finishes. A favorite is our black metal finish, which makes for an eye-catching lapel pin with very bold lines. This lapel pin finish is very reminiscent of striking comic book pen and ink artwork.