If you've ever considered making your own enamel pins, you've probably seen the terms "hard enamel" and "soft enamel." Many people have the same question: What's the difference?
In terms of texture, hard enamel is more expensive than soft enamel. A hard enamel pin has a smooth surface, while a soft enamel pin has raised metal edges. Colors are bright and vibrant in both methods, which use the same metal mold. Soft enamel offers some unique options.
Soft enamel pins and hard enamel pins are the two main types of enamel pins. Each pin has unique qualities and characteristics, however, the main difference between hard enamel pins and soft enamel pins is the production process.
1. What is a Soft Enamel Pin
The production process for soft enamel pins (also known as imitation enamel) is very similar to that of hard enamel pins, with a few key differences. Soft enamel pins start from raw materials such as copper and inject enamel paste through a press. They are then oven-baked, sanded, polished, and plated – creating a smooth, level surface. These pins have a more traditional look and feel and can be produced in a variety of colors and designs.
Soft enamel pins are also less expensive to produce than hard enamel pins, making them a great option for those on a smaller budget. The only way to obtain an enamel badge or pin with a highly detailed finish in multiple colors such as rainbow plated, painted black, or any other custom color is to choose soft enamel as it is less scratch-resistant.
Soft enamel badges are durable, but also very affordable, especially when you order in bulk, which is what most people think of enamel badges. It depends on your needs and preferences whether you choose hard enamel pins or soft enamel pins. If you're looking for pins with a more traditional look and feel, or on a smaller budget, soft enamel pins may be the right choice. If you are looking for a high-quality, durable pin with a smooth, shiny finish, hard enamel pins may be a better choice.
Key advantages at a glance:
Traditional look and feel
Lower production costs
A wider range of rich colors and complex designs is available
The metal surface is clean but with some texture and detail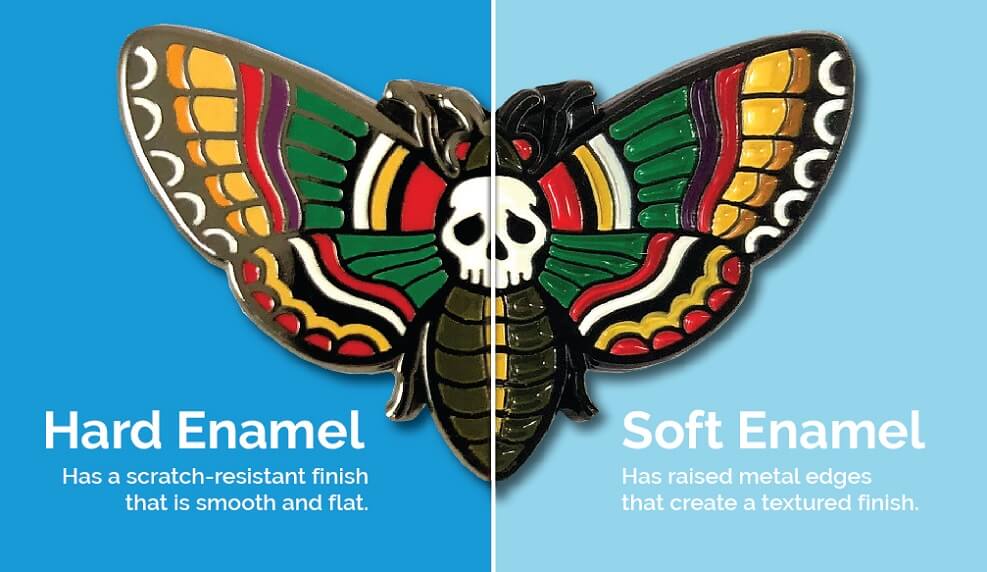 (Another related study case: Soft Enamel Pin Project from UAE)
2.What is a Hard Enamel Pin
Hard enamel (also known as "cloisonne") is derived from the French word "cloisons", meaning "partition" or "cell". The method involves soldering thin metal wires to base metal pins to form tiny batteries, into which enamel powder is placed. Once applied, the cloisonne needles are fired in a kiln, melting the enamel powder and bonding it to the metal surface.
The cells are then flushed to the metal surface and polished to ensure a smooth, premium, and durable finish. The metal is first stamped and formed, and the recessed areas are filled with enamel color. Many people mistake hard enamel for glass because of its smooth and shiny finish.
These pins are also very durable and perfect for making your perfect custom enamel pin. If you have three colors in your custom pin design, put it in the oven three times to let the colors bake and set. Hard enamel pins are durable and scratch-resistant due to being made at higher temperatures, while the finish complements the gold and silver metal plating due to their glass-like quality.
Key advantages at a glance:
highly durable
scratch resistant
high-quality finish
lasting
smooth surface
(Another related post: How to Make Profit from An Enamel Pin Business?)
3. Why is a Hard Enamel Pin More Expensive?
Hard enamel pins cost more than soft enamel pins for a few reasons. First, the production process is more complex and time-consuming. Second, hard enamel pins require more raw materials and are usually made of higher-quality metal. The number of pins you order also affects the price – for hard enamel pins, many enamel pin manufacturers will require bulk orders or set a strict minimum order quantity (MOQ), while soft enamel pins can be custom-made as they are cheaper to produce, Less time-consuming. 
4. How to Deal with Intricate Details of Design?
If your custom design includes multiple colors and intricate details such as characters, animals, or intricate typography, choosing soft enamel pins may be the best solution. One of the notable advantages here is that the enamel dries under the metal ridges of the custom mold, which prevents the various colors from running and mixing. Essentially, you have more control over the quality of the finished product, and it can also be more cost-effective since it requires less oven time.
(Another related post: How to Display Enamel Pins to Increase Attractiveness)
5. Are Soft Enamel Pin Best for Bright Colors?
Yes, because the real enamel badge is colored from solid cloisonné glaze, while the imitation enamel badge uses enamel color paste, which is much richer than the real enamel badge. Despite that, some people prefer a more subtle appearance when it comes to hard enamel pins, badges, and emblems.
6. Why Do Many Merchants Choose Hard Enamel for Branding and Advertising?
Hard enamel pins are usually pricier, however, you can still incorporate colorful logos and branding into hard enamel pins for a high-quality finish that is both durable and stylish. If you're looking for enamel pins to hand out at a trade show or corporate event, hard enamel pins convey a sophisticated look while standing the test of time.
7. What is the Difference between 1D, 2D and 3D Design?
Most one-dimensional or one-dimensional designs are simple, with artwork including logos or wordmarks. With 2D pins, you have more freedom to create beautiful designs, but if you want to impress and may have more complex or detailed designs, it is wise to upgrade to 3D artwork, which may require highlights and shadows for more definition.
3D pins are the most popular style for those who want to create high-quality, intricate custom enamel pins. As the name suggests, 3D pins are produced by height, which means your design will pop out of the metal surface.
(Another related study case: Fantasy Pin Project from USA)
8. Why are Soft Pins and Hard Pins More Popular?
Lapel pins are undeniably stylish and timeless. They've been around for centuries, but in recent years, there's been a real resurgence in their popularity. In a world where we are increasingly alienated from each other, tie pins provide an easy way to show support for a cause or show your individuality.
Whether you choose hard enamel pins or soft enamel pins, they make great gifts, party favors, or just a fun addition to your collection. From South Korean boy group BTS (also known as BTS) to Darth Vader and Peter Pan, there's no limit to the designs that can be created. Here are a few reasons why lapel pins have become so popular in recent years:
They are affordable and versatile, making them a great gift idea
You start growing your favorites quickly and easily
Make custom designs to show your personality
Badges can be worn on clothing, bags, hats, and more
Your pin will allow you to show your support for a cause, raising awareness of what matters
Give a friend or family member a meaningful badge that represents their hobby or interest
9. Decide Which Works Best
Choosing between hard enamel (cloisonné) pins and soft enamel pins is a decision all of our customers have to face. Many times, the hardest part of making that decision comes down to understanding the differences between the two and knowing which one is best for your design. With that in mind, we thought it would be a good idea to go over the basics and show some great examples of pins that get the most out of each style. What you need to understand right away is that cloisonné pins and soft enamel pins not only look different but also feel different.
10. Customized Enamel Pins with Different Looks and Feel
In terms of texture, it's hard to describe the difference between hard enamel pins and soft enamel pins without holding them in your hands. Nevertheless, we want you to have all the information you need to make an informed decision. The smooth, even surface of the cloisonne pin feels seamless as you slide your thumb over it.
One color at a time is filled into the recesses of the design using powdered resin, which is then fired at 1,700 degrees. Once the pins are removed from the kiln and the first color is set, our production team packs in the second color, and so on until all the colors of the design are added.
Each pin is then plated and hand-polished for a flat, shiny finish. For soft enamel pins, the color fill is added to the recessed portion of the design after the plating is complete, and the raised metal in the design prevents the colors from mixing together.
The result is a layered design that gives depth to the artwork. The cloisonné pins feel smooth and even to the touch, while the soft enamel pins have more texture due to the raised and recessed parts of the design.
(Another related product: Custom Band Charm)
11. Why Choose One over the Other?
Our team is capable of creating beautiful designs for both hard and soft enamel pins, but there are certain advantages to each depending on how you intend to use the pin and what design our team helps you create. Cloisonné pins have an original jewel-like finish, giving them a heightened perceived value. They also have great contrast between colors that help define the smallest details in the artwork. This makes them ideal for capturing designs with intricate patterns or small text.
In addition to employee recognition programs as well as membership pins, enamel pins are ideal for premium organizations and clubs. If you're looking for a meaningful and memorable gift that will stand out from the crowd, look no further than hard enamel. If you want your money's worth, soft enamel pins are your best choice. Because cloisonné pins require more time and materials, they are more expensive. Soft enamel pins have a classic look and can be produced in almost any size or shape.
This makes it easy to recreate team logos, crests, and mottos, and the layered design gives the artwork a depth that hard enamel pins don't have. If you want to make transactional pins, awareness pins, or corporate pins that capture brand artwork, soft enamel designs are perfect for the job.
12. Choose between Custom Hard Enamel Pins and Soft Enamel Pins
Since 2000, our signature badge team has been creating custom products for companies across the country. We pride ourselves on being able to produce one-of-a-kind artwork and the highest quality badges in the industry for each client. Regardless of the purpose of your pins, you can rest assured that our team will assist you throughout the design process.
When choosing between hard and soft enamel, the decision will change the aesthetic and texture of the pin. If you're not sure which style is best for your design, keep in mind the key benefits associated with each:
1) Soft Enamel Pins
A great deal of value is delivered to you
Familiar look and classic charm
Deeply layered design
Almost any shape or size can be achieved
2) Hard Enamel Pins
jewel-like finish
smooth, polished texture
contrasting colors
higher perceived value
Deciding which style is best for you is mostly a matter of personal preference. No matter which style you prefer, you can be sure that our team will make a difference for you and your team.
(Another related product: Custom Challenge Coin)
13. Start Your Business
There's no limit to what you can do with custom lapel pins. Whether you're looking for a way to show support for your favorite sports team or want to make a gift for a friend or family member, the possibilities are endless. SICpin has years of experience helping clients bring their custom pin concepts to life. We offer soft enamel pins as well as hard enamel pins, so we're sure to produce a design that works for you.
We've seen how important our custom enamel pins can be in bringing people together, raising awareness for important causes, and providing a fun way to show off your individuality. Whether you already have a design idea or want to explore a few with us, our friendly team will take the time to understand your needs before creating high-quality, personalized pins that you will cherish for years to come.
Remember, when choosing a soft or hard needle, it's important to remember that there is no one-size-fits-all solution. We can guide you through the benefits of each material, detailing why one material is better than another for your specific design. To learn more about us and how we can help you, please share your design ideas or send us a message today and we will get back to you shortly.