This is a pin badge inquiry from a large event planning company in the UAE. The company helps customers plan and hold various large-scale and high-end on-site events in the Middle East. Metal pin badges are often needed at event sites as gifts and identification.
The customer has a very complete team with rich experience in all aspects of design, procurement, and transportation. The people we contacted for this project were from the purchasing department and the design department. They provided a badge design and detailed parameters:
Iron material, 30mm, white enamel, quantity 250,000, magnet accessory on the back
It was the first time we had cooperated, she needed a sample urgently. Moreover, the event time is approaching and the schedule is very tight.
1. Solution recommendation
After receiving the design draft from the design department of Party A, we finished the production artwork within 15 minutes.
After communicating with the procurement department of Party A, 3 different quotation schemes were given within 30 minutes:
Iron soft enamel: moderate cost, strong metal texture;
Iron soft enamel + epoxy: the cost is slightly higher, the surface is protected by epoxy resin, and it is more durable;
Iron printing: low cost, slightly inferior metal texture, lighter weight which can save shipping costs.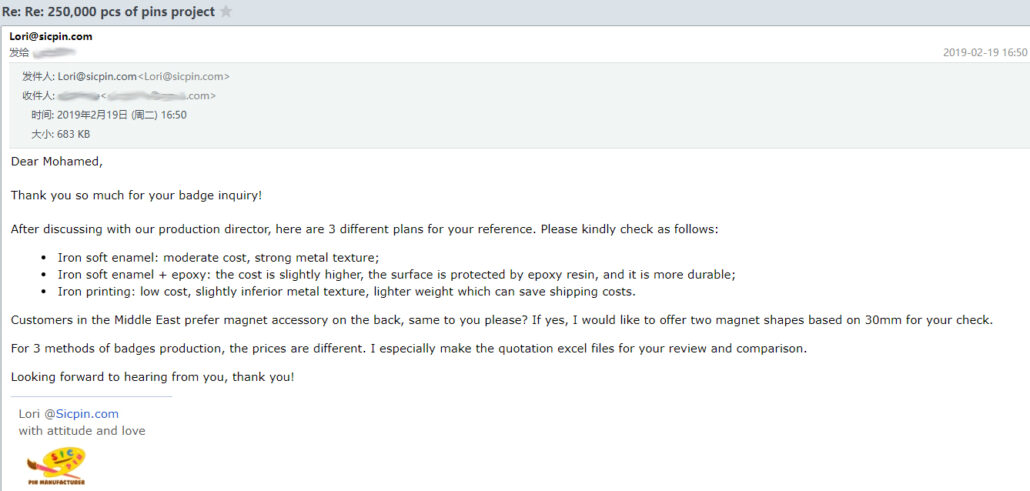 At the same time, for the back magnets, we provide 2 different magnet types for customers to choose from.
3 kinds of solutions with photo examples were offered for this project, they could discuss and directly select the most suitable one during internal meetings. If there was only one solution but not approved, unfortunately, there would exist high communication costs.
The customer ultimately adopted the first option. From the inquiry to order confirmation, it took less than 24 hours.
2. The cooperation process
Due to the tight delivery schedule, after Party A confirmed the details, we immediately began to set up the mold and make samples. A project team was temporarily formed to solve the following problems:
Production follow-up: Follow up and manage the production of orders throughout the process, and solve problems in time if arise;
Material purchase: A badge order of 250,000 pcs requires a large amount of iron raw materials, white soft enamel pigments, magnet accessories, etc.;
Personnel deployment: In order not to affect the normal production of other customers' orders, SICpin deployed experienced workers from the branch factory to participate in the entire production of this project and established overtime bonuses for workers;
Machine allocation: stamping machines, enameling machines, and ovens were turned on all day, and manual assistance was given to fill enamel to ensure quality, quantity, and punctuality.
Halfway through the mold-engraving process, we received a very urgent email from the customer: the customer's local government suddenly made adjustments to the logo for this event, which meant the whole pin design had to be adjusted accordingly. After receiving the modification details, the new artwork was finished within 10 mins, and the new mold was arranged to be engraved immediately.
The final sample was completed in 2 days, it was delivered to the customer by the fastest express method. They were very satisfied with the sample quality and asked us to move forward the mass production.
Sufficient personnel and materials had been prepared, and we kept working non-stop day and night to maintain the fastest production progress while ensuring quality. Eventually, the goods were delivered perfectly on the seventh day and ended up arriving 2 days ahead of the customer's deadline.
In order to make sure that there are sufficient spares for an event, we usually help customers provide an additional 1%-2% of finished products for free. For this project, we also delivered 255,000 finished products based on 2% of the initial quantity.
3. The production process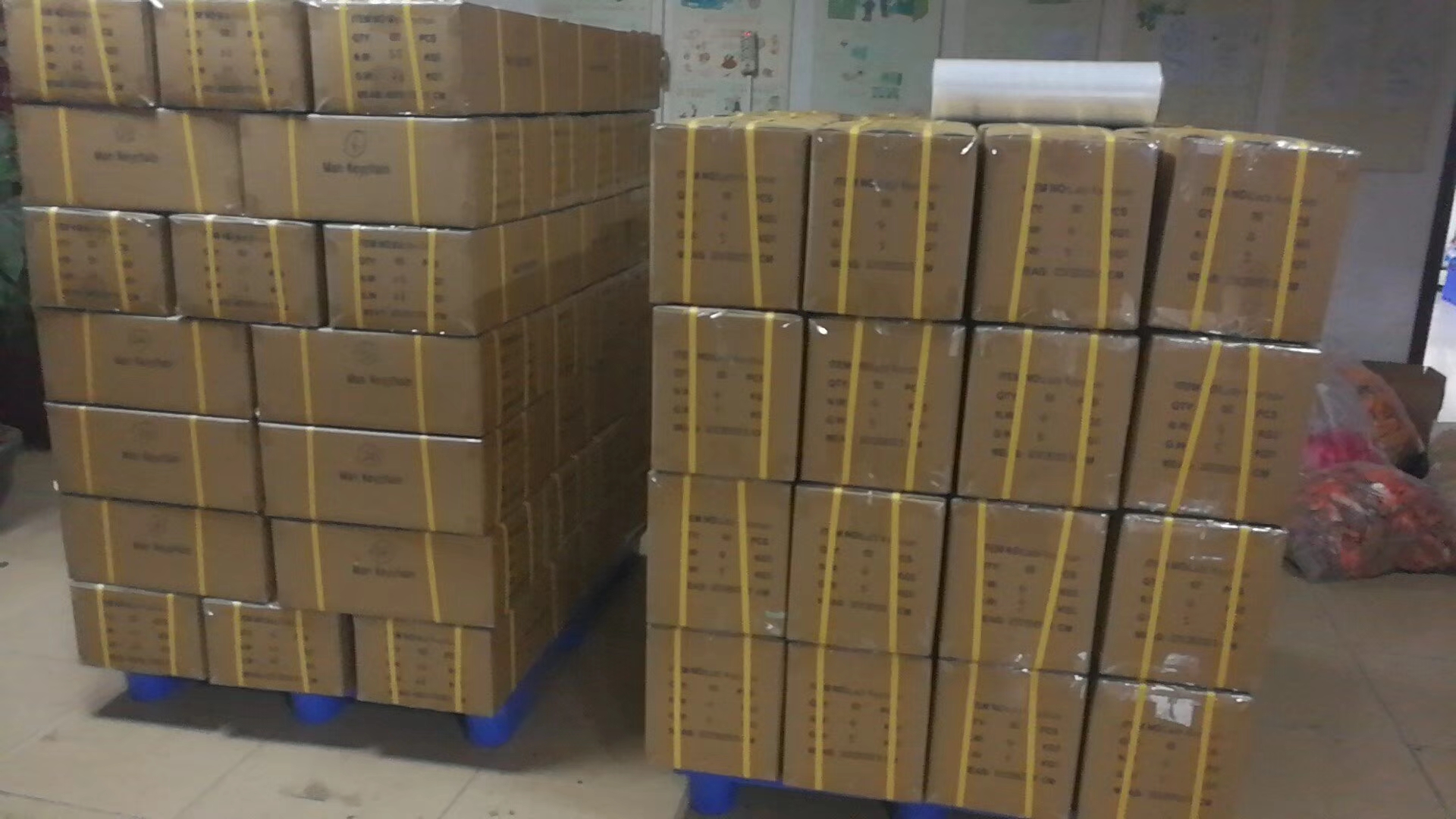 4. Frequently asked questions during cooperation
Q: Do you support proofing?
A: Support. Many customers do not have enough confidence in the quality made by new factories. In order to better demonstrate our excellent quality to customers, we support mold making and proofing and then proceed to mass production after getting the customer's green light.
Q: How do you deal with urgent orders?
A: We support rush orders. We usually handle urgent orders by working overtime, adding people, adding machines, etc., and will meet customers' schedules.
Q: Due to the time difference, what should we do if we urgently need to confirm the order?
A: Due to the time difference, Party A and Party B have different working hours. If there is an urgent order, it is recommended to inform the degree of urgency. Please don't worry, our sales staff will agree on a good time and communicate quickly according to Party A's time requirements.
Q: Will you make extra spares?
A: For ordinary orders, we will deliver 1-4 spares to customers for free. For large-volume activity project orders, we will provide 1%-2% spares of order quantity for free in case the on-site events demand exceeds the customer's expected quantity.
Q: Do you do a thorough quality inspection on every pin order I place?
A: We will conduct a full inspection of each process, and repair it immediately if any defects are found. Before shipment, professional QC will also inspect strictly to ensure that the finished products sent to customers fully meet the quality standards.
Q: What shipping methods do you support?
A: For lightweight packages, we usually use FedEx, UPS, and DHL Express, 3-8 days of transit, which not only guarantees delivery time but also reduces a lot of troubles for customers by door-to-door express. In some countries and regions, we also support door-to-door, double-clearance, and tax-free express delivery. If enough time is reserved for the event, we also support sea shipping for heavier medal cargo to reduce the customer's budget.
5. The customer feedback
After receiving the sample, the customer was very satisfied with our quality and confirmed mass production within 2 hours.
After receiving the large shipment, the customer was very pleasantly surprised by our quality and delivery time and expressed that she would enter into a long-term business relationship.
6. Summary
Why can we be favored by customers and reach long-term cooperation?
We have a fast response and fast delivery team. From business communication, and order production, to express delivery, timely communication and rapid response can be achieved.
For some emergency activities and events, we have contingency plans to expedite production, and we have never broken our trust. Let customers have complete confidence in our delivery time and quality
Process very rich experience in large-scale project cooperation, and provide multiple professional solutions for customers to choose from, which can greatly help reduce communication costs.
In terms of quality, we have always been adhering to the meticulous craftsman spirit. At each product step, a full inspection has to be done to ensure high-quality finished products before leaving our factory.
Wide experience in hardware export helps customers choose the most reasonable transportation method, save transportation costs, and reduce unnecessary troubles.
As an experienced lapel pin manufacturer, whether it is hardware equipment, service concept, staffing, or quick response, we are very confident in providing customers with a full range of services, that greatly exceed customer expectations.
SICpin has a workshop area of 2300 square meters, 42 employees, and 26 sets of production equipment. We always maintain technological innovation in the enamel pin manufacturing industry and guarantee product quality with advanced equipment and strict management concepts.
At least 500,000 pins are produced monthly, involving corporate groups, political events, sports, fashion culture, product accessories, art design, and other fields. We maintain in-depth cooperation with customers in more than 40 countries and regions.