This is a medal inquiry from the UK at the end of 2018. The customer holds swimming events all year round and often needs to customize event medals.
In addition to providing the event logo, the client is not very familiar with the design and craftsmanship of the medals. The client emphasized the design direction of this event: Polar Bear diving into the pool, while reflecting the theme of winter swimming, with coordinated colors and simple design.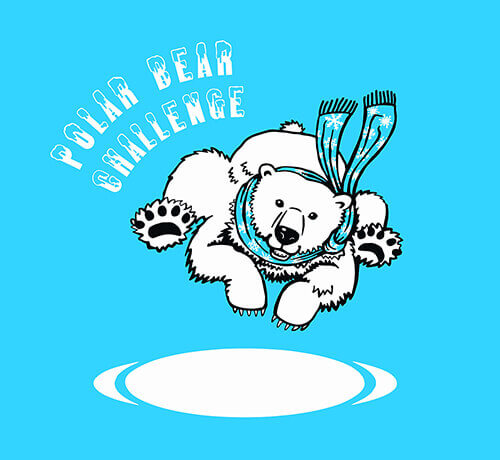 1. Solution recommendation
After understanding the customer's needs, we start with the design, knowing that we can only get the order if she is satisfied with our design and service.
From the analysis of the customer's logo, the characteristics of winter swimming are very clear. The color theme is blue and white. Winter swimming enthusiasts are very challenging, so the shape and details of the medal design should not be too traditional.
We decided to highlight the client's theme in the design from the following aspects:
Combined with the design of the iceberg, the theme is more distinct;
A polar bear represents the swimmer, adding swimmers looks repetitive. In order to highlight the nature of the event, we decided to increase the design of the swimming pool;
The colors of the logo are mainly blue and white, so the overall design also uses these two colors as the main colors;
Silver plating can set off and match better the enamel colors;
Print the theme text on the medal ribbons;
Properly combine the design and match the enamel colors, the medal design is ready to come out.
Through deep communication with our customer, we suggested the effect of the swimming pool would be perfect to do with translucent colors, which enhances the effect of ripples on the water surface. She loves it and looking forward to the turnout!
2. About the cooperation process
Before confirming the design, it was learned that the customer did not know much about the craftsmanship of the medal. We showed some previous medals examples and production procedures to let customers know more about SICpin.
Just because the medals are used to catch up with the event, we have reserved enough time for her on the delivery date. We decided to quickly make a sample for effect and quality check, she could use the medal sample to attract more enthusiasts to join in the competition as well.
On November 25th, we began to set up the mold, and it only took 6 days to finish the sample and ship to her. She was very satisfied with the whole effect, and asked us if possible to add one more printing detail on the ribbons. That's definitely OK.
At the same time, we considered that customers may wear medals in a humid environment, silver plating is easy to oxidize, so we specially sealed the medals with oil to make sure medals can be stored for a longer period of time.
The initial bulk quantity was 650 pieces. After attracting more enthusiasts to participate, we were finally told to make 780 pieces of medals on December 10, and successfully delivered them to the customer on December 26.
3. The production process
4. Common problems during cooperation
Q: When we have determined the design theme, can you help with the design? Is there a fee?
A: We have an experienced design team who focus on the graphic design of metal crafts. Considering various factors such as understanding customer needs, highlighting themes, and enriching details, we provide free design proposals, and can modify the details unlimited times according to your requirements.
Q: Do you support making a sample?
A: Yes. Many customers don't know much about craftsmanship and design because of lacking of production experience. In order to better show the actual effect of the medals, we support mold setup and sampling and move forward to the mass production after samples are approved.
Q: What parameters do I need to provide to get a quote?
A: There are many factors that influence on the price. In order to obtain an accurate quotation, it is recommended to confirm the size, plating, color, quantity, accessories, process etc. after the artwork is completed. If you do not understand certain parameters well, we will assist and give specific advice.
Q: What plating options do you have?
A: Gold, nickel, black nickel, silver, rose gold, antique, dyed, etc., are very widely used in hardware medals. For some competitive events, we suggest using gold, silver and copper to distinguish the 1.2.3 rankings. Of course, antique finish is popular to pursue a retro style , such as antique gold, antique silver, antique copper, etc.
Q: Do you do a thorough quality inspection on every medal order I place?
A: We will conduct a full inspection of each process, and repair it immediately if any defects are found. Before shipment, professional QC will also inspect strictly to ensure that the finished products sent to customers fully meet the quality standards.
Q: What shipping methods do you support?
A: For light weight packages, we usually use FedEx, UPS, DHL express, 3-8 days of transit, which not only guarantees the delivery time, but also reduces a lot of troubles for customers by door-to-door express. In some countries and regions, we also support door-to-door, double-clearance and tax-free express delivery. If enough time is reserved for the event, we also support sea shipping for heavier medal cargo to reduce the customer's budget.
5. Customer Feedback
After receiving this batch of medals, the customer was very satisfied with our quality and service, and immediately started another medal project, and the cooperation has been going on.
For the customer's follow-up medal orders, we have continued this cooperation mode from communication design to perfect delivery, helping customers to complete a lot of customization work for swimming medals.
6. Summary
Why can we be favored by customers and keep long-term cooperation?
Our sales staff fully listen to what customers needs of each project. Efficient communication and professional advice from multiple aspects save a lot of time;
The cooperation of the whole production line is highly efficient and not dragged. From artwork details to items finished, our colleagues coordinate very well;
Considering saving money and time being an important factor while customers select a vendor, we take advantage of 3D effects, enamel, glitter, plating, accessories and other craftsmanship options to achieve the most satisfactory results for customers;
For some urgent competitive events, we have emergency plans for expedited production, and we have never broken our promise. The customers are completely assured of our delivery time and quality;
Rich experience in hardware export help customers choose the most reasonable transportation method, save transportation costs, and deal with unnecessary troubles.
As an experienced medal manufacturer, whether it is hardware equipment, service concept, staffing, or quick response, we are very confident in providing customers with a full range of services, which greatly exceed customer expectations.
SICpin has a workshop area of 2300 square meters, 42 employees and 26 sets of production equipment. We always maintain technological innovation in the medal manufacturing industry, and guarantee product quality with advanced equipment and strict management concepts.
At least 30,000 medals are produced and exported per month, involving Marathon, Ball games, Dance, Martial arts, Bodybuilding, Swimming and other fields. And we maintain in-depth cooperation with customers in more than 40 countries and regions.