This is an inquiry for Fantasy pins from the United States. The customer has been making enamel pins for several years, taking advantage of Disney or Marvel and other popular culture backgrounds to design classic character pin badges for sale or exchange.
This customer was referred by one of his friends, who is a long-term customer of ours. He said he had seen the real item, which was very beautiful, and his friend spoke highly of us, so he would love to work with us. A very specific fantasy pin design and detailed parameters were also provided:
3.75 inches, pin on pin, gold-plated, hard enamel, raised back stamp, 45 pieces, and would like to know the approximate turnaround.
1. Introduction to product features
We have been making plenty of fantasy pins, and their main features are small quantity, large size, hard enamel, many colors, and complex lines and details. Many pin creators doing this type of design have been looking for a stable manufacturer. The contradiction lies in:
Very small quantities, many factories are unwilling to accept the order, even if they take the order, the customers do not feel respected;
Large-size hard enamel is a great challenge to the difficulty of enamel and details treatment. Many factories aren't able to do it well, the noticeable issues such as pinpricks, enamel dips, wavy enamel, color fading, uneven enamel, pitting in plating, etc. often occur. The high defective rate results in failure to meet customer quality standards.
Other factory salesmen promise very well at first, however, the production line can't cooperate well, and the staff who fill the enamel find it difficult to do, then keep delaying it. The customer can not receive the production update for a long time… and the whole production is delayed again and again. An order is probably not completed for 4-5 months.
2. Solution
The room for some small detailed areas is too small to be filled with enamel. Meanwhile, this customer thought these tiny details are very important and could not be removed, so we plan to use screen print to perfect the details.
There are clouds and a moon on the design. In order to make the product look more vivid, we recommend adding some special effects to enhance the atmosphere of the design content – do the moon glow in the dark, and do the clouds pearlescent with swirl.
Since the versions of vector files may be different, some colors may look very close on the computer, but the actual visual effects are distinguishing. When the customer is tangled in the Pantone color of the female characters' skin, we directly take pictures of the colors in the Pantone color card and send them for reference.
Regardless of whether it is a trial order or not, due to the large number of colors, we are afraid that the actual effect will differ badly from the original expectation. We recommended him to make pre-production samples to check the effect and quality. After all, the higher the color reproduction of the character, the better the pins can sell.
Let customers experience our services during the proofing period.
3. The cooperation process
The customer did not have a vector file, so our artwork designer traced all the lines based on the customer's PNG file and carefully selected the Pantone colors that were closest to the customer's original image. This process only took one day and a half. The customer was pleasantly surprised by the speed of the artwork drawing. After careful checking, he asked us to change a few colors and then confirmed that we could arrange to engrave the mold and start sampling.
In order to help the customer know where his pin was at, we took pictures of the production progress in the four steps of mold completion, die-casting, enamel filling and completion and sent them by email.
It took 23 days from confirming the production artwork to completing the sample. The customer witnessed how his design was transformed into the actual product step by step. He was very grateful for our cooperation and support for his order and was full of praise for the exquisite samples.
Customers wanted to adjust 3 colors. We immediately made arrangements on the sample and sent the actual effect of the colors replaced to for him to review the next day. Then he said everything was ready and waiting to receive the beautiful art pieces! (The turnaround for the mass production is about 35 days).
4. The production process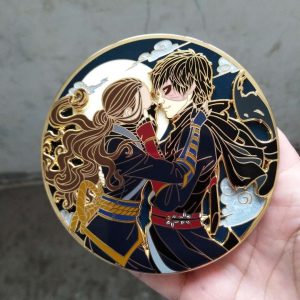 5. Frequently asked questions during cooperation
Q: Do you support proofing?
A: Support. Many customers do not have enough confidence in the quality made by new factories. In order to better demonstrate our excellent quality to customers, we support mold making and proofing and then proceed to mass production after getting the customer's green light.
Q: How many revisions of artwork are supported?
A: Under fit-in-production conditions, we support unlimited revisions until the customers say good.
Q: Do you make excess spares?
A: Each batch of products will be shipped with 1-2 spares.
Q: Do you do a thorough quality inspection on every pin order I place?
A: We will conduct a full inspection of each process, and repair it immediately if any defects are found. Before shipment, professional QC will also inspect strictly to ensure that the finished products sent to customers fully meet the quality standards.
Q: What shipping methods do you support?
A: For lightweight packages, we usually use FedEx, UPS, and DHL Express, 3-8 days of transit, which not only guarantees delivery time but also reduces a lot of troubles for customers by door-to-door express.
6. Customer feedback
After the customer received the sample, he was very satisfied with our quality and directly confirmed the mass production after changing the color the next day.
After receiving the bulk goods, the customer was very pleasantly surprised by our A-grade quality and turnaround and expressed that he would enter into a long-term cooperation.
7. Summary
Why are regular customers willing to recommend us to their friends?
We have always maintained excellent service and thought about what our customers need. So they think we are very considerate.
We have a natural sense of responsibility for our customers' orders. From artwork to finished products, each department is contributing its own expertise.
Due to stable quality and effective communication, customers fully trust us and recommend us.
Why are new customers so willing to establish long-term cooperation?
We have a quick response team. Business communication, order production, and express delivery, timely communication and rapid response can be achieved.
The staff in the enamel department and the Polishing department are experienced and patient.
Don't break trust with customers. Let customers have complete confidence in our production and quality.
Seeing the power of close division of labor and cooperation among teams, each department does not procrastinate.
As an experienced enamel pin manufacturer, whether it is hardware equipment, service concept, staffing, or quick response, we are very confident in providing customers with a full range of services, that greatly exceed customer expectations.
SICpin has a workshop area of 2300 square meters, 42 employees and 26 sets of production equipment. We always maintain technological innovation in the enamel pin manufacturing industry and guarantee product quality with advanced equipment and strict management concepts.