Pushpins are a great way to show off your creativity. The pins range from trendy to fun to sentimental. With a pin, you can buy a small piece of yourself for someone else. You can also collect pins to use as decorations in your home or to represent an area of ​​interest. Make your own pinboard with different colors and shapes!
1. What to do with pins?
Now the question is what do we do with all the pins? I did a quick search and found these super simple, easy ways to showcase your collection! You can use pins to:
Collecting: Many people collect enamel pins as a hobby. You can focus on collecting pins for specific Disney movies, characters, attractions, or events. This can be a fun and rewarding way to build a unique collection that reflects your personal interests in the Disney world.
Trading: You can trade pins with other collectors online or in person at designated trading locations. Trading can help you get new pins for your collection and meet other collecting enthusiasts.
Display: Displaying your enamel pin collection can be a creative and visually appealing endeavor. You can use pin boards, shadow boxes, frames, or even custom displays to display your pins throughout your home. This way you can enjoy your collection and share it with others.
Sell: As your collection grows, you may decide to sell pins that no longer have much personal value to you. This can help you get more popular or meaningful pins for your collection.
Gifts and Keepsakes: Disney pins make great gifts for Disney fans, especially if you know their favorite character or movie. They also serve as a unique souvenir of your visit to Disneyland.
Remember, how you enjoy your pin collection is entirely up to you. Whether you are a dedicated collector or just enjoy the beautiful appearance of your pins, there are many ways to interact with and have fun with your pins.
(Another related post: 7 Tips for Selecting An Enamel Pin Manufacturer)
2. How to Display Enamel Pins?
Enamel pins are a fun and creative way to show off your interests, hobbies, or personality. They make great gifts and can be worn on hats, jackets, backpacks, or scarves. If you want to display your pins in a way that is both stylish and functional, here are some tips you should consider. Choose an easy-to-reach spot for your pins.
If you want to display your pins in a place that is easily accessible when you need them and doesn't get in the way of other items on your body or clothing, choose somewhere on the front of your shirt. A good location might be near the top of the chest or collarbone area so they aren't too far from where you're wearing them. It also makes it easier for people who want to compliment your pin collection to find them.
1) Shadow Box with Linen
Hang a framed picture of your favorite pins at the places you frequent. You can also display them on coffee tables or shelves.
2) Packaging Cork Notice Board
These corkboards are versatile and can be used for many purposes. They're great for organizing tasks, project workflow, displaying pictures or notes, and more. You can also use them to display your tie pin graphics if you like!
#1. Basic Cork Board
Most hobby and office supply stores have standard framed cork boards to display your pins "out of the box." You can get cork boards in a variety of sizes to fit your collection and available wall space. Even a simple corkboard can look great if the pins are grouped and organized in a fun way.
#2. Grid Cork Board
While it's handy to point out certain pins in a photo in a grid corkboard, here's a creative solution that uses a simple grid on a corkboard to help you pinpoint pins of interest. This presentation is helpful if you often show off or sell your pins on message boards.
#3. Painted Cork Board
With a little stenciling and paint manipulation, you can turn any basic board into a work of art. We'll provide you with this fascinating example. If you want to continue with the full theme, you can add a design that matches your pin collection. Below is an example of using a map as a travel pin background.
#4. Special/custom-shaped wire panels
Rather than drawing a design on a basic board, these creative folks turned the board into a design in itself. Cork boards are easy to cut, so even the least crafty among us can create simple designs with ease. We like how the board's manufacturer added a sturdy frame that gives the board a polished, professional look.
#5. Special shaped plate
Cork isn't the only material that can display enamel pins in fun and trendy ways. These operating alternatives use wood, felt, foam, and other materials. If you're crafty, here are some great ideas to guide you. If not, some of them are for sale.
(Another related post: Hard vs Soft Enamel Pins: What's the Difference?)
If you have the space, consider buying a lapel or pocket pin display case. Also, if you want to add a little industrial feel, install cabinets that match your decor.
4) Needle Display Case Shadow Box Frame
A frame is a great option if you don't have a place to store your pins. They can be hung on the wall or placed on a table, providing plenty of room for pins and your collectibles.
#1. Basic shadow box display
The standard shadow box provides a neat space to display your favorite pins. This well-organized little display looks very soothing.
#2. Glowing Shadow Box
Now that you have the basics down, you can make your shadow box even more unique. For example, adding LED lights can create a great pin display. Glow-in-the-dark tubes or tape may be a non-electric alternative. Just like a shadow box, you can turn a plain old picture frame into an enamel pin perfect for hanging on the wall with just a few modifications.
This is the professional-grade version with the double blackout. It was such a poignant presentation. If you want a beautiful table or mantel, buy an inexpensive folding picture frame. With a little felt and cardboard, you have a portable, freestanding enamel pin display.
5) Hanging Brooch Storage Box
The Hanging Brooch Organizer is a convenient way to organize your enamel pins. This is the perfect way to keep your enamel pins from getting tangled and it will also keep your necklaces from getting damaged. You can hang it in your dressing room, bedroom, or bathroom.
(Another related study case: Soft Enamel Pin Project from UAE)
6) Enamel Pin Wall Display Banner
This is a great way to show off a door or wall pins. It provides a fun way for people to see all the pins you have. You now have some great ideas on how to display your favorite pins! Get creative and get out there!
#1. Width
Due to their versatility and simplicity, fabric banners have gained some popularity among badge collectors. The super simple version looks great and only requires a few supplies. You can probably complete this project in an hour. It might be a little longer if you add some decorative pom poms at the bottom. Solid color fabrics work well, but you don't have to stop there. This banner uses a fun celestial fabric to set the right tone for the pins it presents.
#2. Tapestries and More
Light tapestries hung on the walls as decoration. As it happens, they're also great at displaying pins. This is a creative use of a simple tapestry. Notice how much room it has for the large number of pins.
You can even use thin rugs, which are readily available at antique malls, thrift stores, and yard sales. Just make sure they're not too heavy or you might not be able to secure them to the wall. If you want to go super simple, a piece of burlap will also do the trick.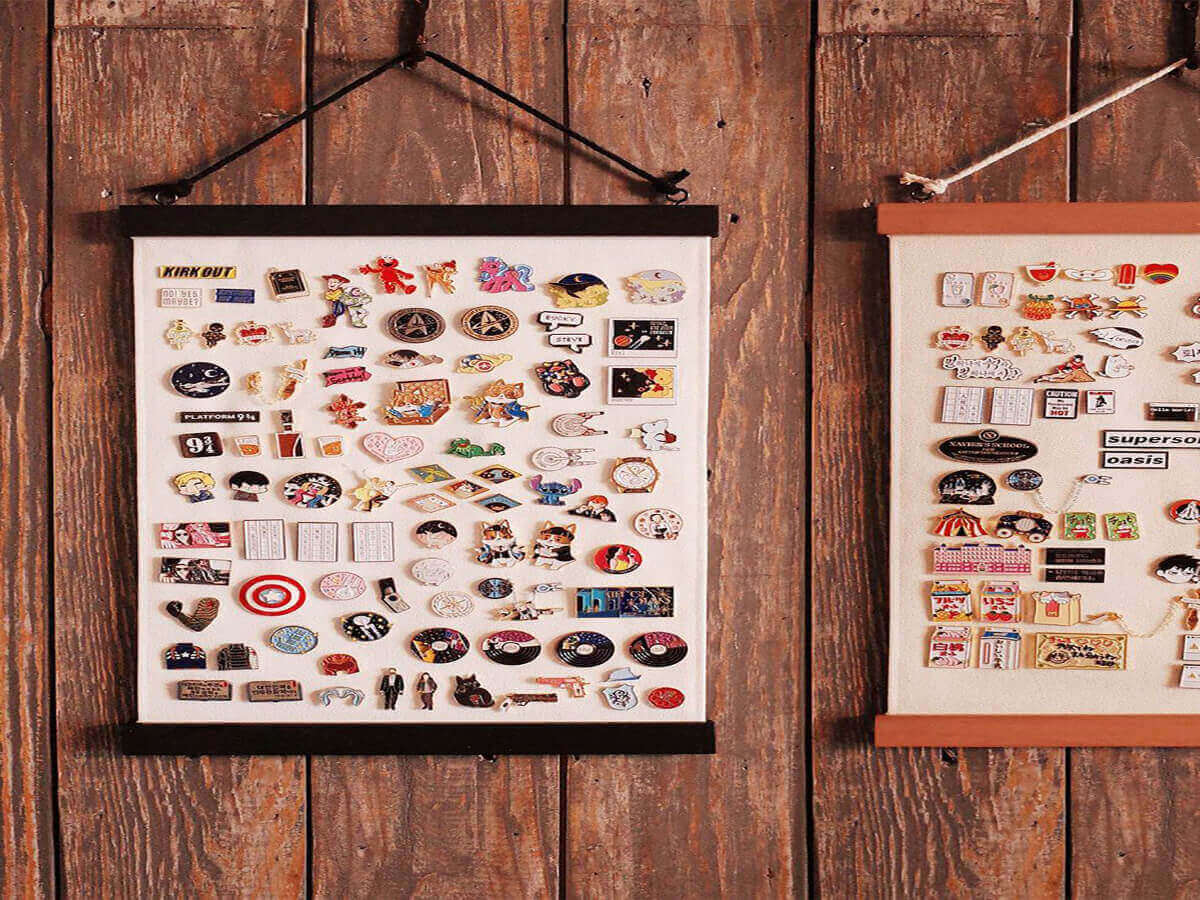 7) Do some embroidery
Embroidery hoops hold the fabric tightly and make needlework easier. They work just as well for needles as they do for needles. The simplest versions of these pin displays make for an easy and inexpensive DIY project, but they're also a blank canvas for your creativity if you want to add detail.
#1. Basic Embroidery Hoop
Here is a great example of a simple embroidery hoop pin display. You don't need fancy fabrics or anything fancy to get started. Just use a material color that fits the theme of your pins and helps them stand out. Once you've mastered the art of making a simple embroidery hoop display, you can try adding design details. Using a flat iron gives you endless options to personalize your pin display.
#2. Quilting Embroidery Hoop
Quilting adds a layer of texture and charm to an embroidery hoop display. This quilted hoop display has such cozy, cozy appeal. Small projects like this are also great for quilters who want to quilt on the go. You don't have to lug around a big blanket to keep working.
8) Use a scarf
If you have a beautiful scarf that goes with all types of outfits, you can use it as a base to hold all your pins on, so you can wear all your favorite pins wherever you go.
9) Place them on an earring display
You may have an earring display stand on your dresser, or you can purchase one from the Internet. Today, you can find tree-shaped jewelry displays or jewelry displays with stands on them. Just connect all the enamel pins to these displays and you have a ready-made pin display.
(Another related post: How to Make Profit from An Enamel Pin Business?)
10) Pillows and cushions
Decorative throw pillows and cushions have tons of design space, just waiting to be decorated with your favorite pins. Look for thin cushions or removable pillowcases to stabilize your back.
#1. Pillow shape
As the name suggests, pincushions are made for just this sort of thing.
#2. Pin pillowcase
We didn't know we needed a pin pillowcase until we saw other people's pin pillowcases. This got us thinking, what a shame none of our throw pillows currently have pins on them.
11) Needle seat
Most of the ideas we've presented so far on how to display enamel pins have been hanging vertically. Pin racks allow you to decorate horizontal surfaces with treasured pin items. Some of these were made simply to hold enamel pins in place. Some are the result of highly creative repurposing.
#1. Basic needle hub
A single needle holder like this one is perfect for housing the most valuable needles in your collection. It's simple and sturdy and doesn't draw attention away from the pin.
12) Make a needle lamp
Another fun way to display enamel pins is to attach them to a lampshade, which is suitable if you have at least a dozen pins in your arsenal. Make sure the lampshade does not tilt due to the weight of the pins.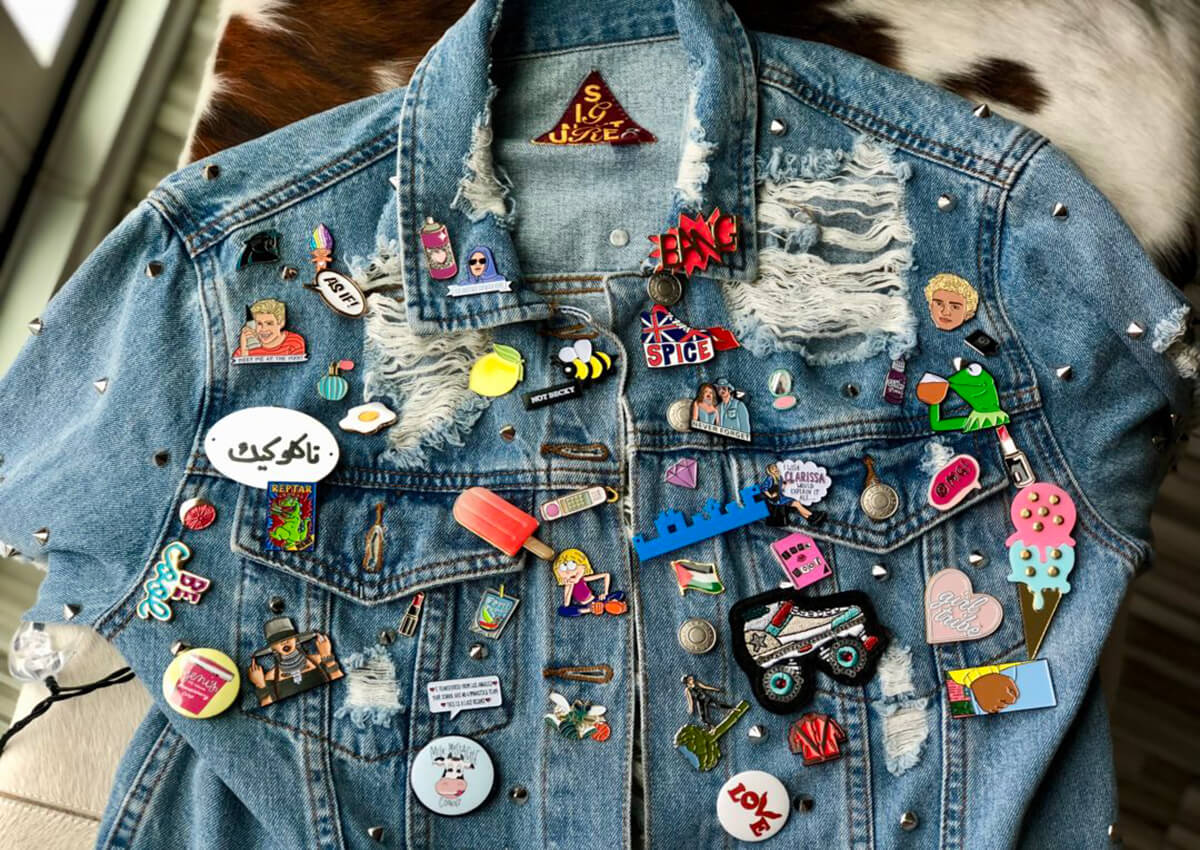 13) Needle bag
If you have a lot of nice handbags and wallets, and hundreds of enamel pins, you can fill the outside of your bags with them, and people will know you're an enamel when you're walking around with your bag Pin lover.
14) Place them on the mannequin
Are there mannequins or clothing mannequins around, or do you think you can easily get one? You can then layer it with any enamel pins you have.
15) Old denim jacket
People used to decorate their denim jackets with glitter, but you can simply decorate your old denim jacket with pins of different shapes and sizes.
(Another related post: Enamel Pins for Backpacks for Kids: What is It & How to Pick)
3. Conclusion
The above are the ways to display enamel pins summarized in this guide. You can decide which display method to use based on the number of pins you have.